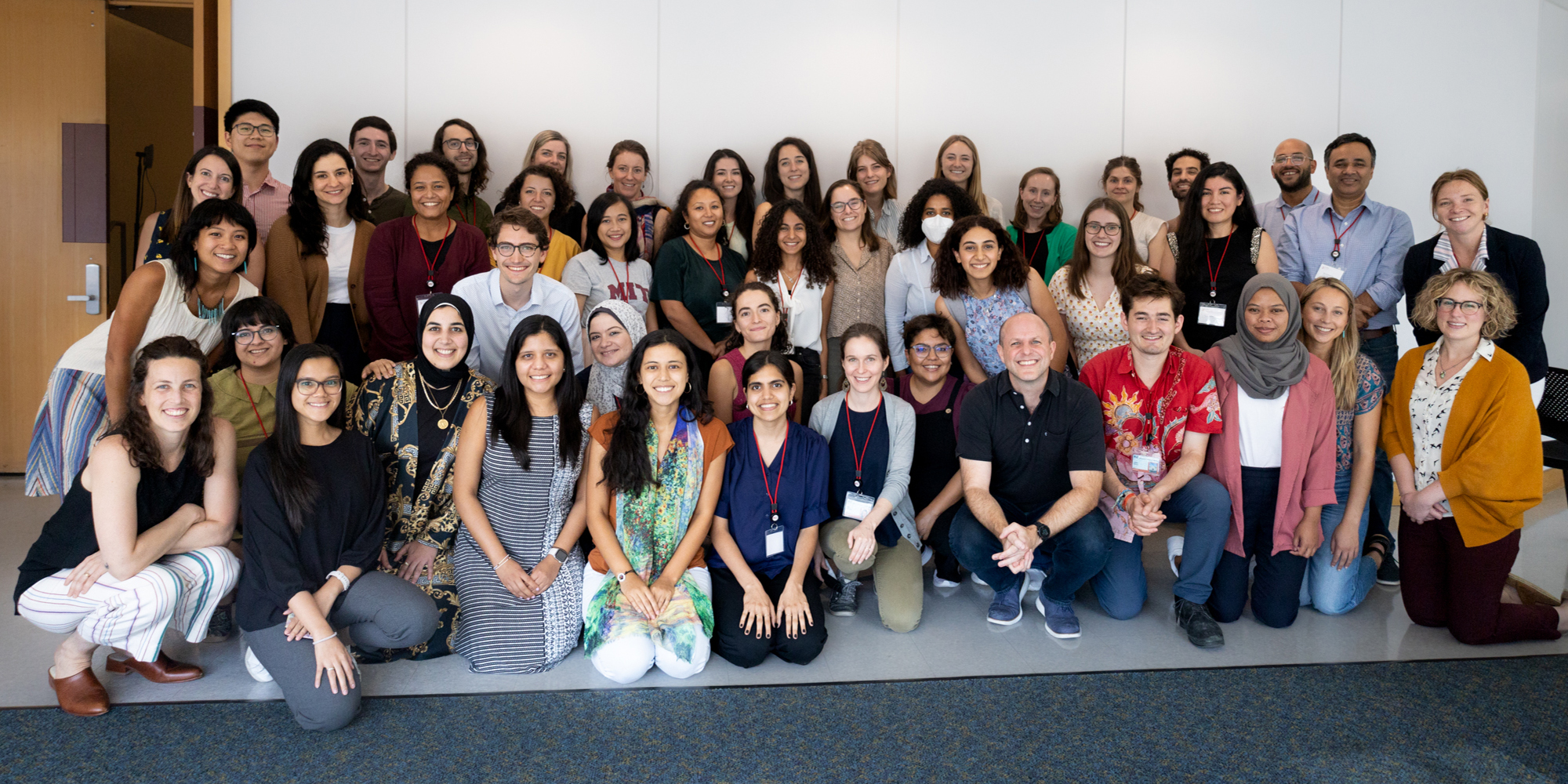 Our work is fundamentally better when it is informed by diverse perspectives. We are taking action to address the lack of diversity, equity, and inclusion (DEI) in the field of economics and in our field of work; we have made strong progress on the organizational goals we set in 2020, and continue to add new goals to reflect emerging priorities.
This includes working toward increasing the diversity of our research network, staff, and the places in which we conduct research; and prioritizing equity and inclusion in our work. We are committed to improving DEI across many dimensions, including gender identity, ethnicity, race, national origin, (dis)ability, sexual orientation, socioeconomic status, and location of host university. 
Our work focuses on five key areas:
Opening doors
Removing barriers to conducting randomized evaluations for researchers underrepresented in economics through mentorship, training, and funding is a core component of our vision for a more inclusive research network. Some examples of this include:
Through a new partnership with the Research in Color Foundation, we established a paid internship program at J-PAL's headquarters at MIT for Research in Color mentees. 
The MENA Scholars Fellowship, launched in 2022, creates a pathway for MENA region-based researchers to build skills and experience to design and conduct randomized evaluations of poverty reduction and social development policies and programs.
The Indian Scholars Program, launched in 2021, provides research funding, training, and networking opportunities, and offers hands-on randomized evaluation experience for doctoral students through the Research for Impact Fellowship.
The African Scholars Program, launched in 2019, provides opportunities for PhD holders based at African academic institutions or who attended high school in Africa to access research and career development resources through the Digital Identification and Finance Initiative (DigiFI), the Jobs and Opportunity Initiative (JOI), and the Digital Agriculture Innovations and Services Initiative (DAISI).
The Economics Transformation Project partners with high schools, universities, and other organizations in the United States to equip students from backgrounds underrepresented in economics with information, skills, mentors, and networks to advance in the profession, and offer insights into the applications and impacts of applied economic research.
J-PAL Southeast Asia recruits recent Indonesian graduates for staff positions; staff participate in training and receive mentorship during their tenure, including guidance in applying to graduate school. Eleven Indonesian J-PAL SEA alumni have gone on to master's programs in economics and public policy, and ten additional alums are enrolled in or have completed PhD programs.
Working and learning from researchers and affiliates at the forefront of efforts to reduce poverty has informed my work and scholarship. [My work as a RIC Fellow prepared me well for] a rich and fulfilling experience at J-PAL Global.
— Precious Fasakin, former intern, J-PAL Global
Expanding our research network
Invited researchers are an important element of our mission to increase the number of high-quality, policy-relevant randomized evaluations and ensure that policy is informed by this scientific evidence. 
Like J-PAL affiliated professors, invited researchers are also professors based at academic institutions where freedom to publish results is protected, and share an interest in conducting randomized evaluations. Unlike affiliated professors, invited researchers typically have less experience carrying out this type of research. These researchers are eligible to apply for funding from a specific J-PAL initiative(s) or to work with a specific J-PAL regional office to implement their research project, opening doors to gaining this experience—often in partnership with a J-PAL affiliated professor. 
Invited researchers are identified through multiple channels, including a close review of authors of articles published in economics journals on topics relevant to J-PAL's work, and nomination by a J-PAL affiliate or staff member. In 2023 we will enable self-nominations of invited researchers to specific J-PAL initiatives and regional offices to further democratize this process.
In expanding our invited researcher program, we seek to build diverse networks of researchers around the world who are carrying out randomized evaluations, crowd in subject-matter expertise to J-PAL initiatives, and help researchers strengthen their research portfolio and advance their careers. Many invited researchers go on to become J-PAL affiliated professors; in 2022, 92 percent of our new affiliates were previously invited researchers, J-PAL regional scholars, or J-PAL post-docs. 
We look forward to growing these programs in 2023 and welcome partners in this work. Read more »
Building a global community of alumni

J-PAL has been home to thousands of talented individuals in countries around the world who have helped shape our organization. They have gone on to play key roles in government, academia, and the nonprofit sector and continue to advance the evidence-backed policymaking movement.
 
"Being able to work directly within a state government builds on many of the partnerships and projects I found most fulfilling during my time at J-PAL... It's exciting to get to work within state government, particularly in a state as big as California, where understanding impact at scale can have relevance beyond our state."
"Working at J-PAL was very eye-opening for me and I learned a lot of fundamentals… Through the training process, you learn to understand why and how the data that you collect from participants will influence analysis and policy in the end. You had to know how all the different components interact and how to continuously monitor how each piece (i.e training, analysis, data collection) affects the other. This was crucial to my work at the time, but it has also really helped me even beyond J-PAL."
— Nana Okozi, J-PAL '16, Project Coordinator at the National Institute for Communicable Diseases, former Project Officer at J-PAL Africa
"I also have the opportunity to closely follow some of J-PAL's long-term research projects in which I was involved more than ten years ago. The DEPP regularly collaborates with academic researchers who use our data (administrative data in particular) to carry out longitudinal studies that follow students over the long term, for instance. Improving access to high-quality administrative data is an extremely promising way to enhance a culture of evidence-informed policy.
Our code of conduct for the J-PAL community
We actively work to ensure all members of our community, including our staff, researchers, and those associated with our implemented or funded projects and events, are respected, supported, and valued. This is a key component of our commitment to diversity, equity, and inclusion and is a core value that will never change. Discrimination, harassment, and abuse have no place in our work and are not tolerated. Read more »