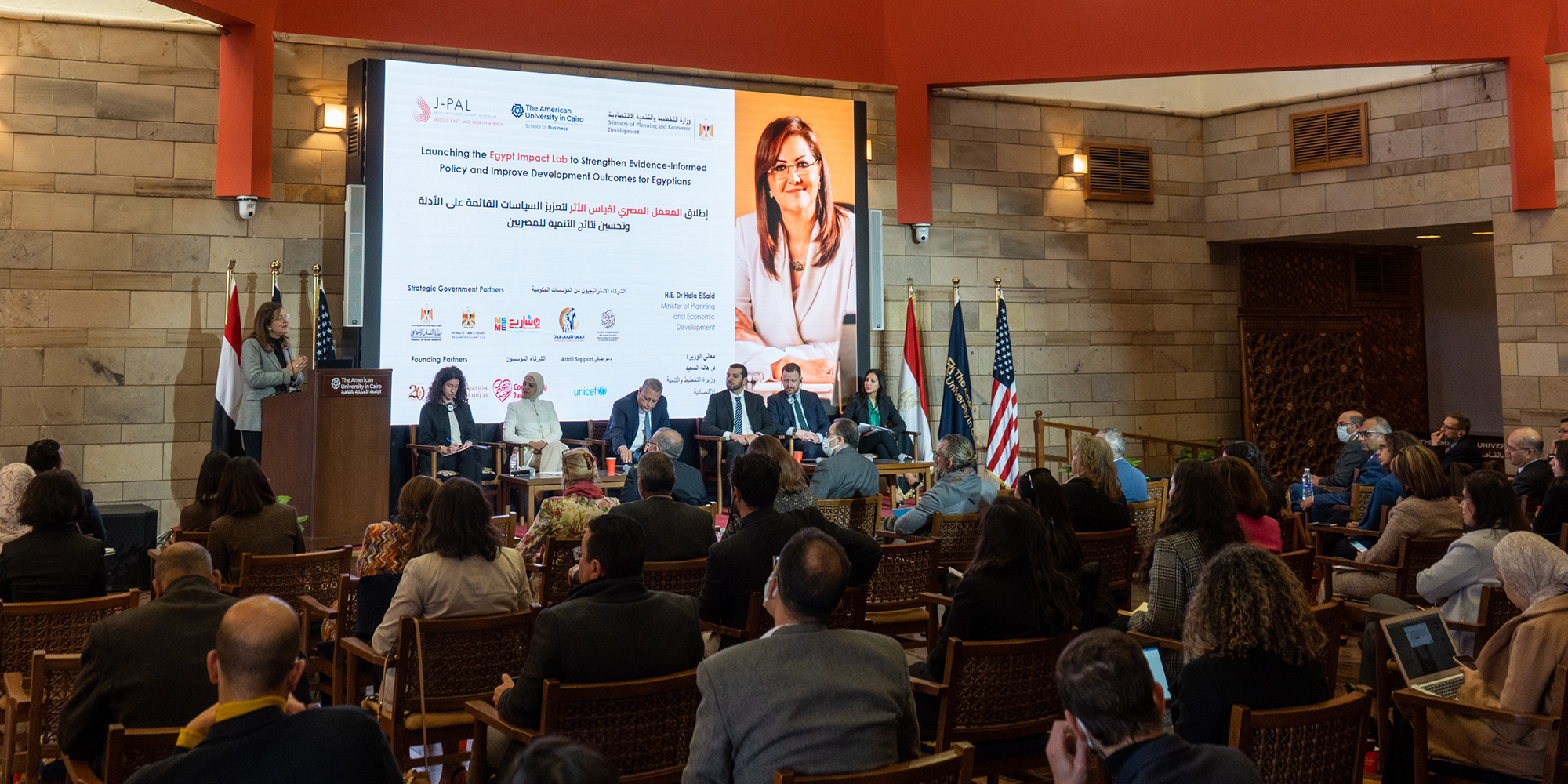 Informing Policy and Practice
Since 2003 we have built a strong evidence-to-policy pipeline that has resulted in government partnerships in over 25 countries. More than 600 million people have been reached by policies informed by evaluations from J-PAL affiliated researchers. 
With the practice of evidence-informed policymaking gaining momentum, our research network, evidence base, and regional reach have expanded along with it, enabling the development of high-impact policy partnerships. Since J-PAL's founding in 2003, we've built long-standing partnerships with governments across 25 countries to enable evidence-informed policymaking and catalyze adoption of evidence-based programs at scale.

This work includes providing tailored, context-appropriate policy guidance; launching government policy labs to institutionalize use of evidence; and embedding J-PAL staff with partner organizations to identify opportunities for new randomized evaluations and build capacity for evidence generation and use. We also use our convening power to bring policymakers, practitioners, and researchers together to discuss promising solutions to entrenched challenges of global—and local—poverty.

In 2022 we further expanded this work with an ambitious $6 million grant jointly awarded from Co-Impact, a global organization focused on building just and equitable systems in Africa, Asia, and Latin America; and Community Jameel, an international organization advancing science to help communities thrive in a rapidly changing world. These partnerships center on three key pillars:
Co-creating and catalyzing use of timely, relevant, high-quality evidence and data to inform social policy and program design and implementation.
Building the capacity of government officials to generate and use evidence and data.
Strengthening government systems more broadly to enable and incentivize evidence-informed policymaking.
Evidence-informed systems change is essential to creating lasting global impact on the fight against poverty and gender inequality. This change, however, doesn't happen overnight; it requires trusted partnerships with forward-looking governments and civil society and ongoing evidence generation and learning. J-PAL's track record of close partnerships spanning decades, coupled with its deep local expertise, points to the tremendous potential of this work to break down structural barriers and build more just and equitable societies.
— Olivia Leland, Founder and CEO, Co-Impact
Our successful policy partnerships are the result of two decades of evolving theory on the most effective pathways to policy change. While early innovations like our flagship evaluation summaries and local policy outreach remain critical tools, we have layered new approaches, like long-term institutional partnerships and embedded staff, on this foundation to create sustainable change.
It takes a broad coalition of actors to improve policies and scale up evidence-informed programs. Some examples of the results of these long-term policy engagements are below. 
Policy snapshots from 2022
Expanded the Girls' Education and Empowerment Portfolio in sub-Saharan Africa, including working with federal and state Ministries of Education and the World Bank in Nigeria to design a life skills intervention.
Launched an eight-year multidisciplinary education consortium in collaboration with the French National Research Agency.
Supported Mexico City's Secretariat of Women's Affairs in designing and piloting strategies to prevent and reduce intimate partner violence.
Launched an embedded lab within Egypt's Ministry of Planning and Economic Development to generate and use evidence to strengthen the effectiveness of national policies in social protection, family development, employment, and women's empowerment.
Informed the White House's call for schools across the United States to expand student support services, including evidence-based high-quality tutoring programs.
Hosted a major research-to-policy conference in Indonesia that brought together environmental policymakers, researchers, and practitioners to share evidence from rigorous evaluations, identify key open questions, and facilitate matchmaking for new research collaborations. 
Launched a partnership with the Government of Odisha, India and the NGO Breakthrough to introduce evidence-based gender equity programming to 23,000 government schools.
We recognize the importance of early-stage funding to seed institutional partnerships that, over time, can generate and scale meaningful government innovation. As longtime partners of J-PAL, we've seen how impactful this work can be, not least earlier this year with J-PAL Middle East and North Africa's launch of the Egypt Impact Lab…. Now we are excited to join forces with Co-Impact and J-PAL to build on this success and help improve lives on a global scale.
— Fady Jameel, Vice Chair of Community Jameel
Case studies: From evidence to policy
In the United States, researchers designed and launched a large-scale video messaging campaign in which physicians encouraged people to stay home rather than travel for the 2020 Thanksgiving and Christmas holidays, in order to prevent the spread of Covid-19. The campaign reached more than 35 million Facebook users and led to both a reduction in holiday travel and a decline in Covid-19 infections. Read more »

A J-PAL meta-analysis of 96 randomized evaluations showed that tutoring results in impressive learning gains for students. State lawmakers in California and Colorado drew on this rigorous evidence in developing policies to combat learning loss caused by COVID-19, allocating funds for high-impact tutoring programs. In 2022, the US federal administration cited J-PAL's meta-analysis in its announcement to launch a national tutoring initiative. Read more »
In France, the French Public Employment Agency, known as Pôle emploi, has used evidence from impact evaluations, including randomized evaluations conducted by J-PAL affiliated researchers, to inform its policy and program decisions. Agency staff have also participated in J-PAL trainings, strengthening their capacity to conduct impact evaluations. Read more »

In the United States, after research found that providing families with information on school quality increased Housing Choice Voucher recipients' moves to neighborhoods with higher-rated schools, an affordable housing website expanded the provision of school quality information to all of its 60,000 daily site users. Read more »
Raising awareness of evidence-informed policymaking