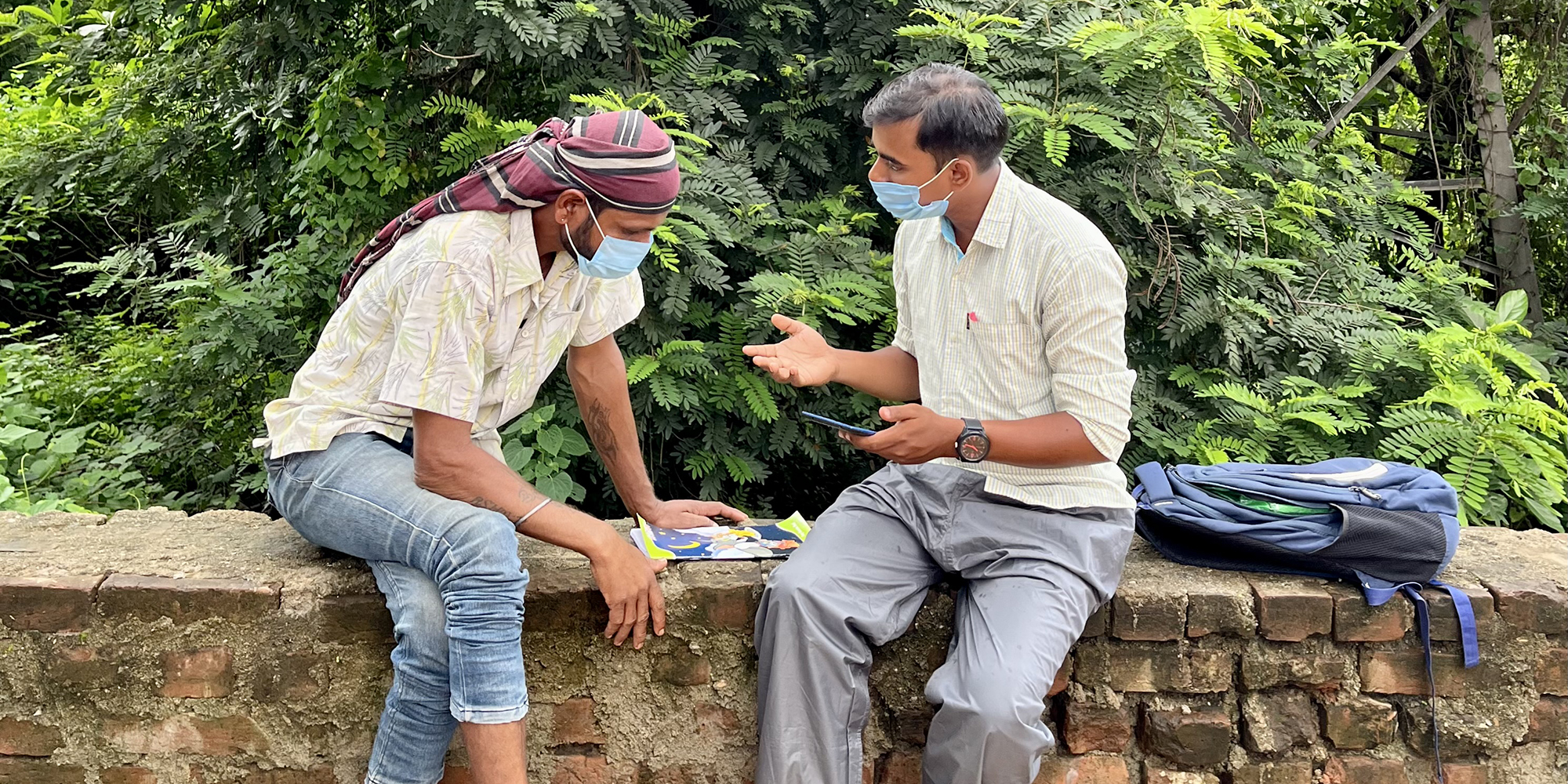 We opened our doors in 2003 with a mission to reduce poverty by ensuring that policy is informed by scientific evidence.
 
In our first decade, we set out to build a robust infrastructure for rigorous research in new contexts. In our second decade, we worked to transform how evidence is applied to policy change and build researcher and implementer capacity—all with the goal of improving lives worldwide. Over the coming year we will be reaching out to many stakeholders and listening to their priorities, as well as reflecting on lessons learned and looking ahead to new challenges and possibilities. Read our letter from the Global Executive Director and visit The Year Ahead to learn more.
1,640+
EVALUATIONS
conducted by researchers in our network across 95 countries, building a strong body of evidence on the most (and least) effective approaches to reducing poverty.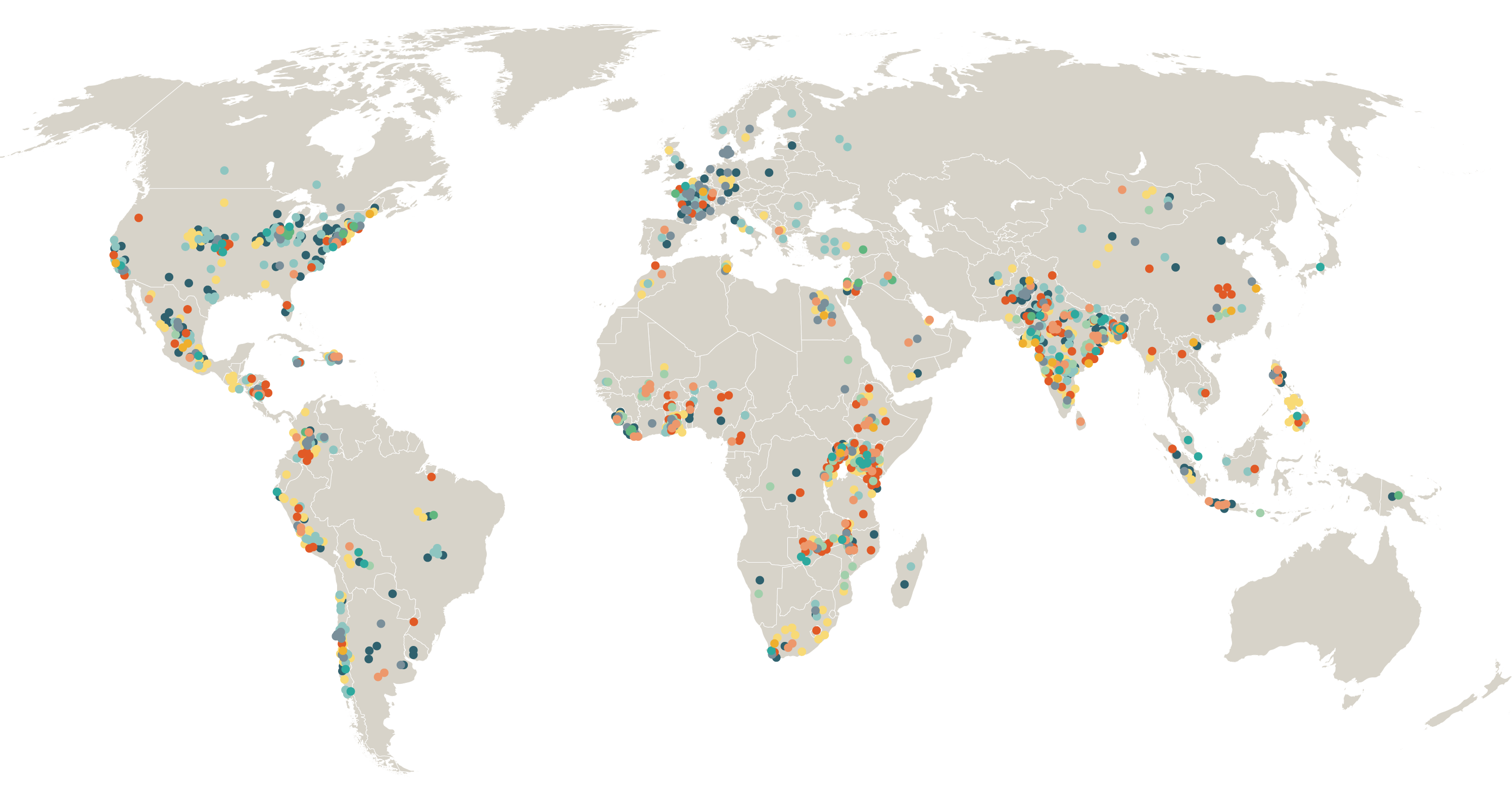 EVALUATION GROWTH OVER TIME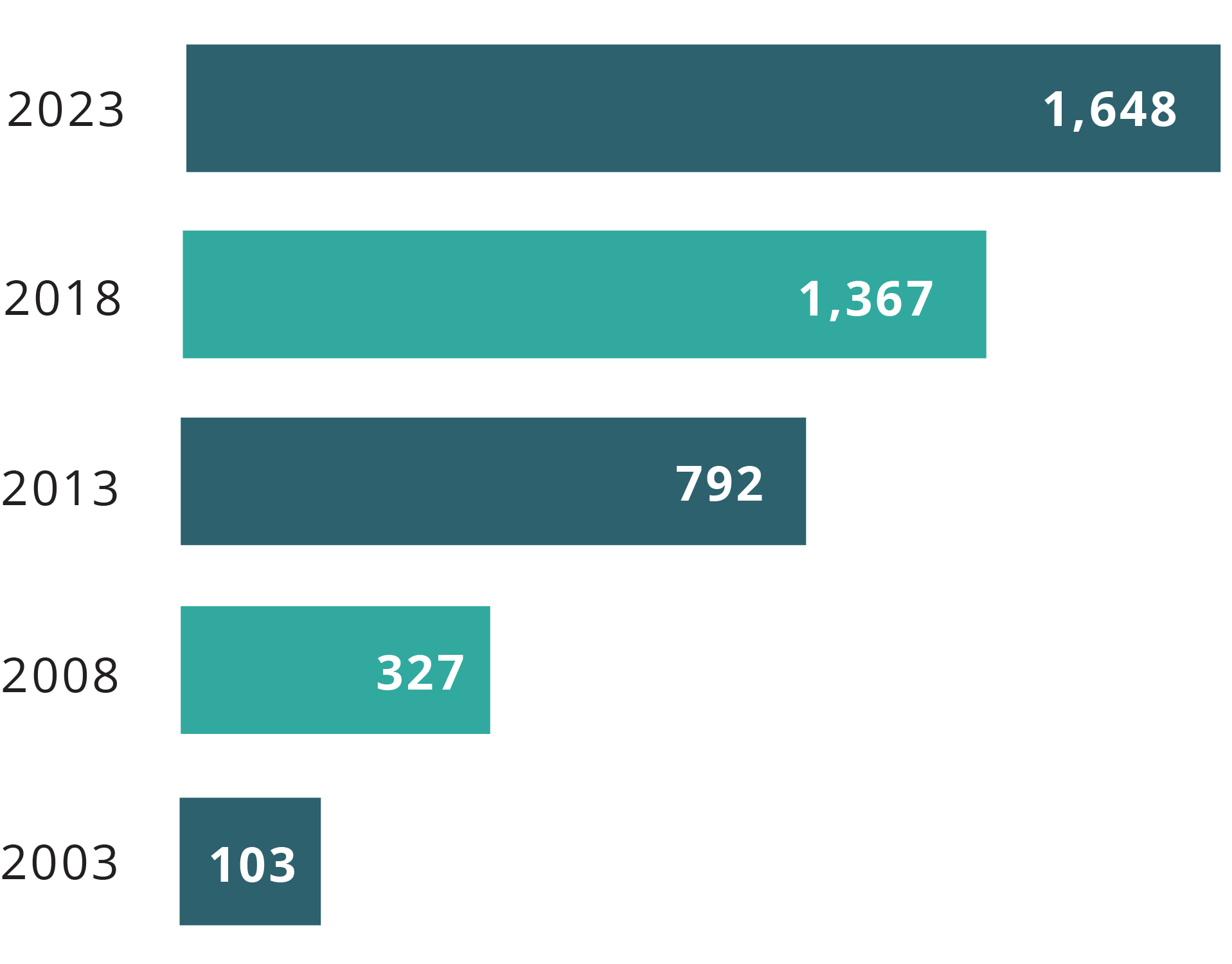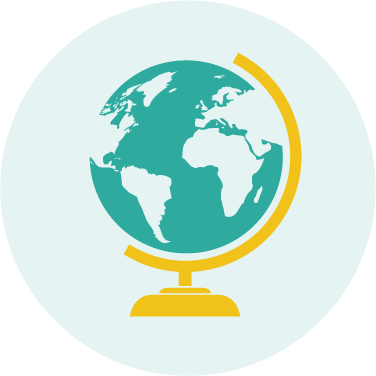 RESEARCH IN 95 COUNTRIES
has identified region-specific, context-appropriate policy solutions worldwide.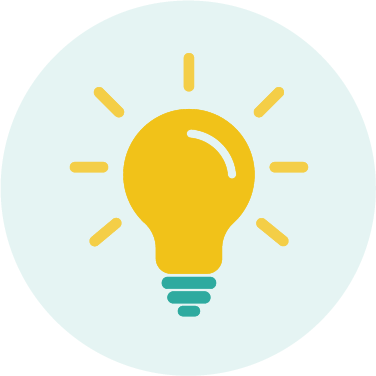 11 SECTORS
concentrate research and policy analysis across a wide breadth of social policy priorities.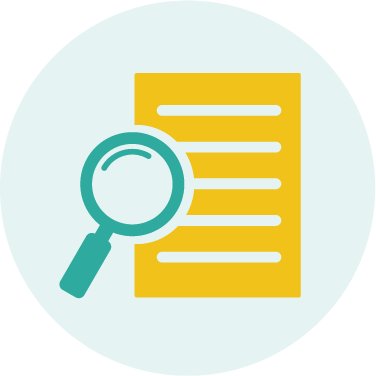 868 EVALUATION SUMMARIES
of individual studies help make research results more accessible to policymakers and practitioners.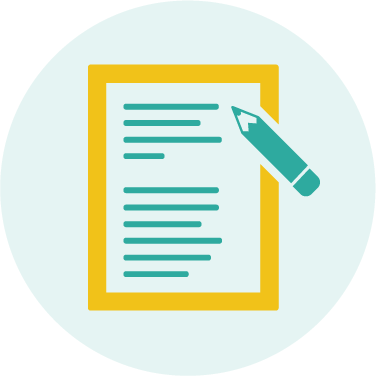 44 POLICY INSIGHTS
highlight lessons emerging across multiple studies and explain the mechanisms driving these results.
---
Our network of regional offices are hosted at universities around the world and lead research, policy engagement, and training across their regions. We also work closely with our partner organization, Innovations for Poverty Action, which has offices in 22 countries.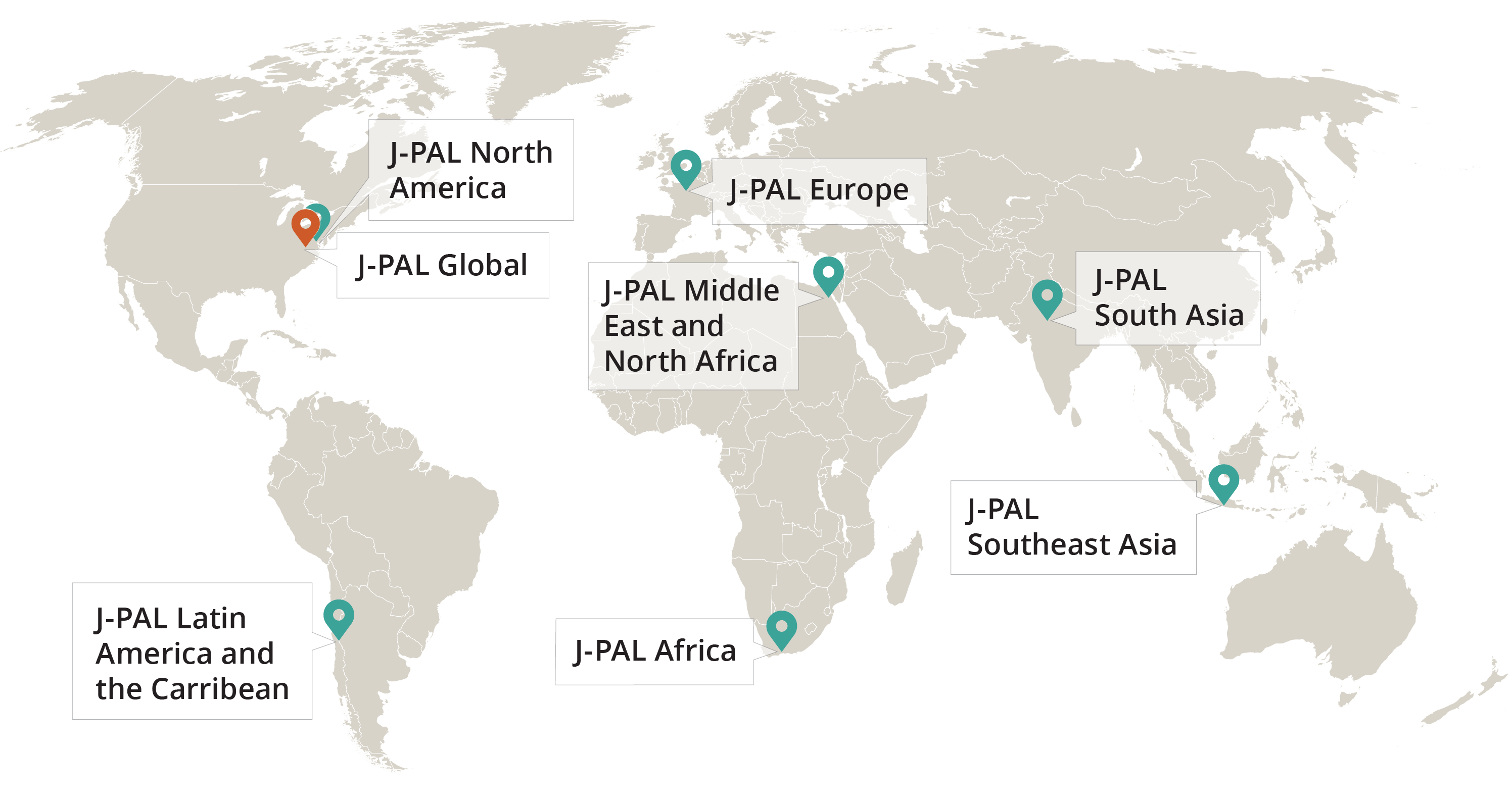 D
I
V
E
R
S
I
F
Y
I
N
G
T
H
E
R
E
S
E
A
R
C
H
N
E
T
W
O
R
K
---

Based at universities around the world, J-PAL affiliates are experts in their fields who are united in their use of randomized evaluations to design, test, and inform adoption at scale of programs and policies aimed at reducing poverty.
J-PAL AFFILIATES OVER TIME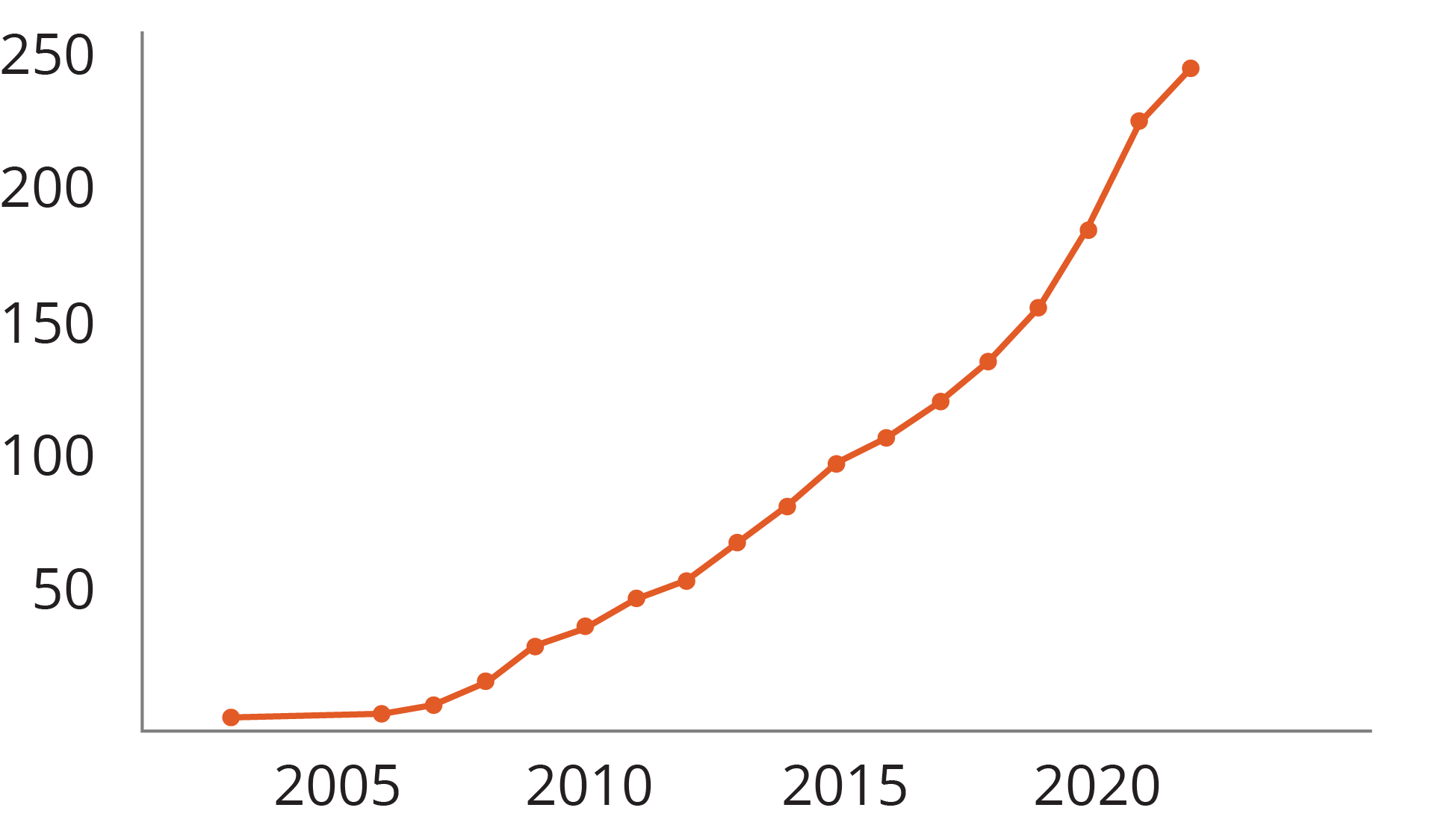 REGIONAL SCHOLARS PROGRAMS
Our Regional Scholars Programs enrich evidence generation with local, context-specific grounding by removing barriers for researchers based in low- and middle-income countries to conduct randomized evaluations through funding, mentorship, and training.
Invited researchers are an important element of our mission to increase the number of high-quality, policy-relevant randomized evaluations and ensure that policy is informed by this scientific evidence. Typically researchers who have less experience carrying out randomized evaluations, they add to a growing evidence base while gaining expertise in randomized evaluation methods.
J-PAL INVITED RESEARCHERS
GENDER OVER TIME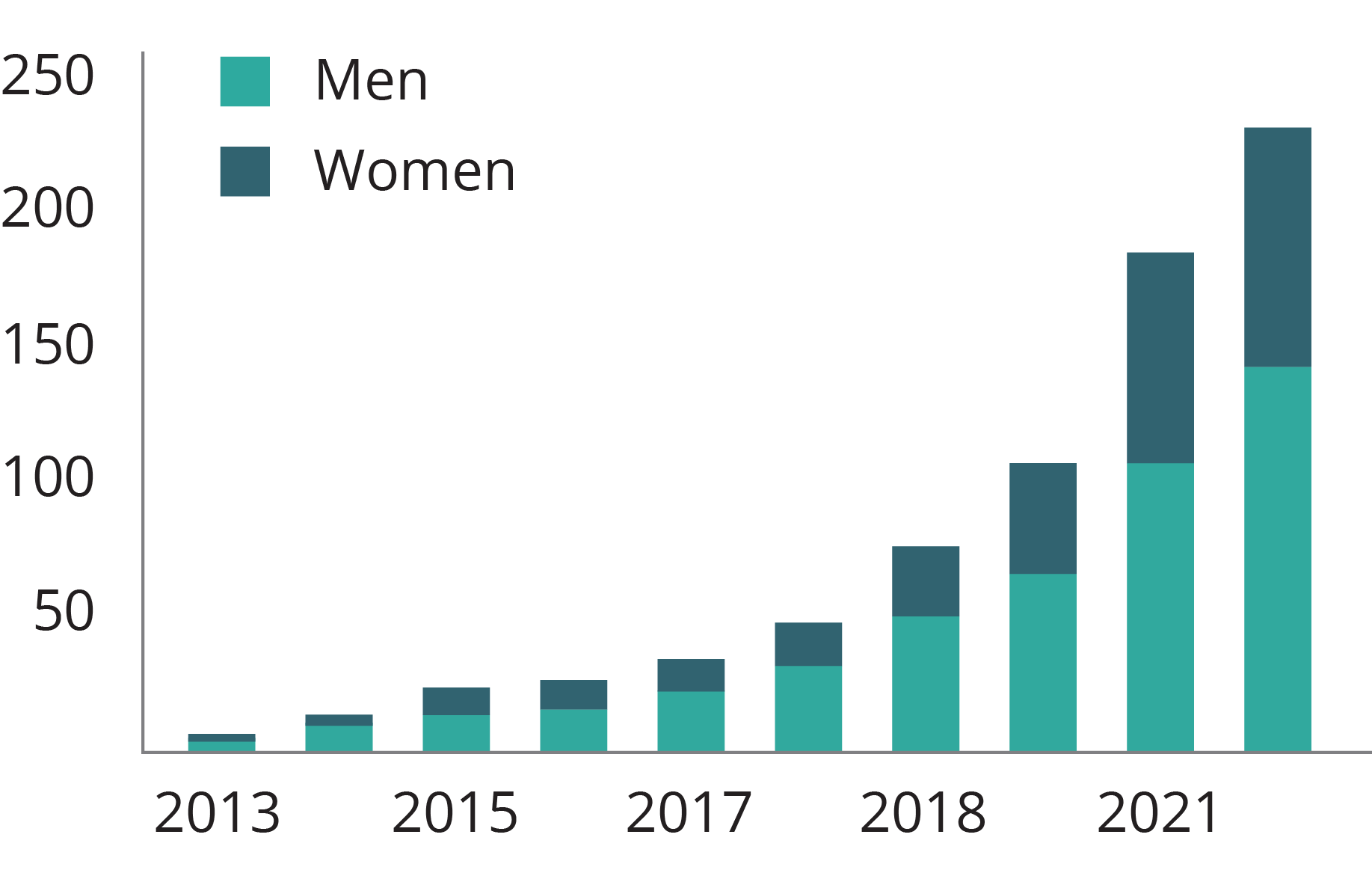 INVITED RESEARCHERS IN 2022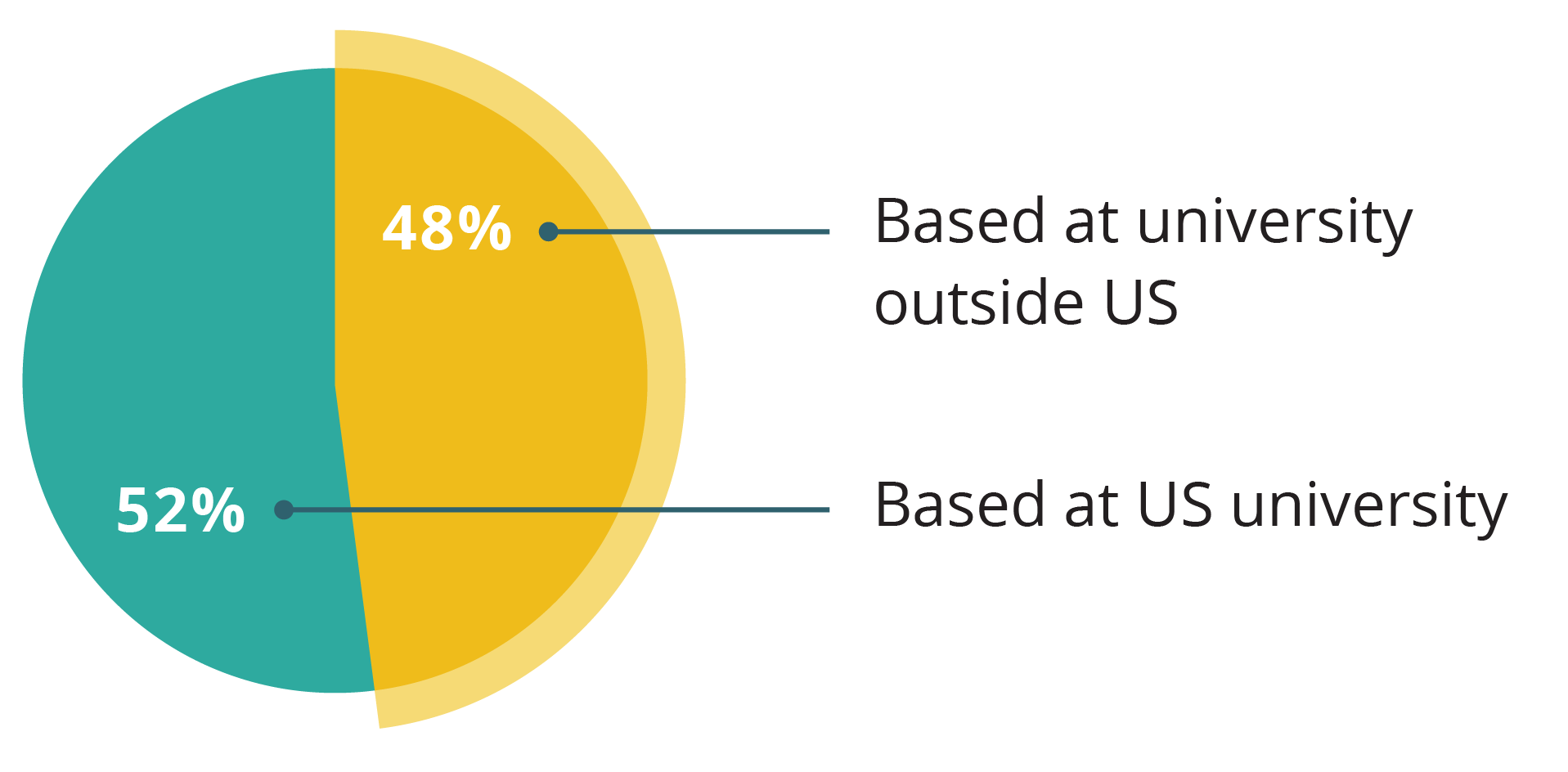 We are working toward increasing the diversity of our research network, staff, and the places in which we conduct research; and are prioritizing equity and inclusion in our work. This includes strengthening our research network at all stages of the pipeline.
Enabling innovation and growth
Who is Abdul Latif Jameel?
Following in the footsteps of his late father, the visionary entrepreneur and mission-driven philanthropist Abdul Latif Jameel, Mohammed Jameel KBE—an MIT alumnus—launched Community Jameel in 2003. Community Jameel partnered with J-PAL in 2005 with three significant endowments that sparked the lab's expansion to the worldwide research center it is today and catalyzed its transformative impact.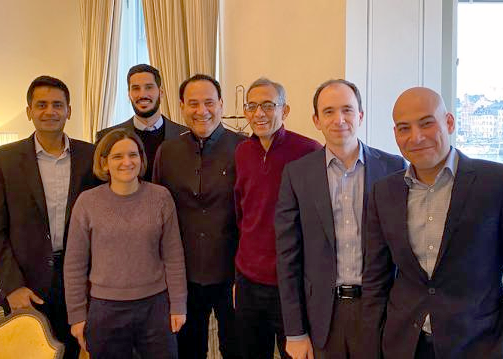 Photo (left to right): Iqbal Dhaliwal, Esther Duflo, Hassan Jameel, Mohammed Jameel, Abhijit Banerjee, Ben Olken, Fady Jameel.
What is Community Jameel?
J-PAL continues to work in close collaboration with Community Jameel, an independent, global organization that advances science and learning for communities to thrive. Established in 2003, Community Jameel supports scientists, humanitarians, technologists and creatives to understand and address pressing human challenges.

Our visionary partners
Our work is generously supported by foundations, governments, and individuals. In addition to Community Jameel, major donors include Arnold Ventures, Co-Impact, Echidna Giving, The Bill and Melinda Gates Foundation, Google.org, The William and Flora Hewlett Foundation, King Philanthropies, The John D. and Catherine T. MacArthur Foundation, The Douglas B. Marshall Jr. Family Foundation, Omidyar Network, The Alfred P. Sloan Foundation, the Australian Department of Foreign Affairs and Trade, and the UK Foreign, Commonwealth & Development Office.
Awards won through the years
As randomized evaluation methods have evolved in scale and impact over the past twenty years, many of our affiliated professors have been recognized by leading economics organizations for their path-breaking research.
Elaine Bennett Research Prize
Erica Field (2010)
Amy Finkelstein (2008)
Marianne Bertrand (2004)
Esther Duflo (2002)

Marcella Alsan (2021)
Amy Finkelstein (2018)
Heidi Williams (2015)
Raj Chetty (2012)
Esther Duflo (2009)
Sendhil Mullainathan (2002)
Michael Kremer (1997)

Sveriges Riksbank Prize in Economic Sciences in Memory of Alfred Nobel
Abhijit Banerjee (2019)
Esther Duflo (2019)
Michael Kremer (2019)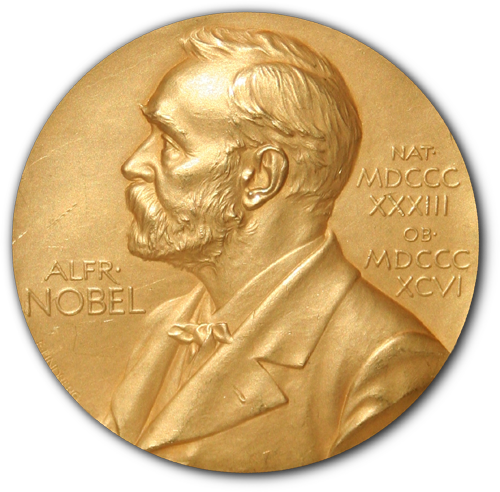 Raj Chetty (2013)
Amy Finkelstein (2012)
Esther Duflo (2010)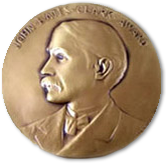 Celebrating longtime staff
J-PAL has been home to thousands of talented individuals who have helped shape our organization. We celebrate the current J-PALers who have been with us continuously for more than ten years, making countless impactful contributions along the way. Thank you!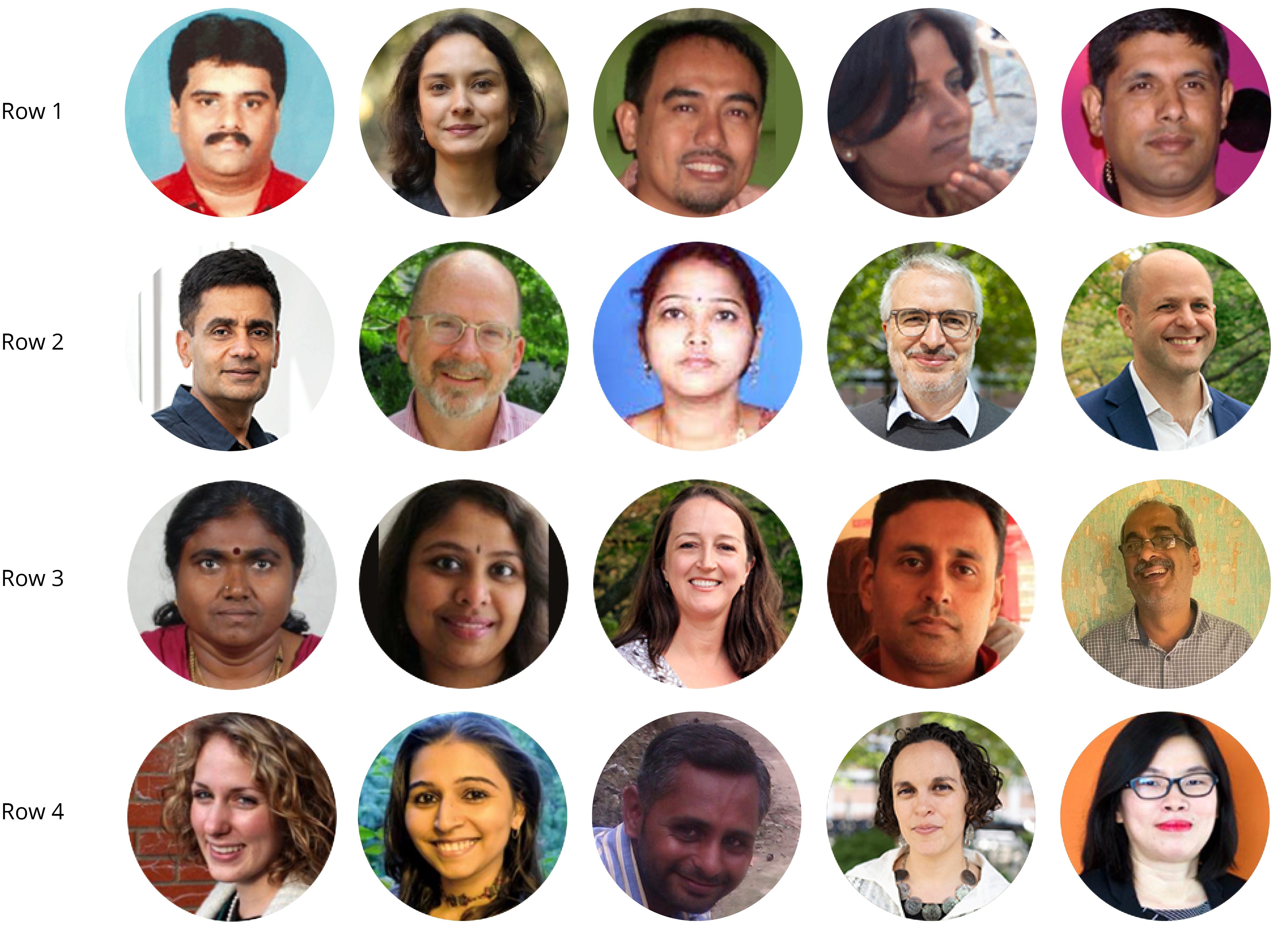 Row 1: B. Ayyappa (South Asia, 2007), Shobhini Mukerji (South Asia, 2007), Chaerudin Kodir (Southeast Asia, 2008), Hansa Parmar (South Asia, 2008), Vipin Awatramani (South Asia, 2009).
Row 2: Iqbal Dhaliwal (Global, 2009), David Sears (Global, 2010), Narayanee A (South Asia, 2011), Ilf Bencheikh (Europe, 2011), John Floretta (South Asia and Global, 2011).
Row 3: H.Y. Gowramma (South Asia, 2011), Harini Kannan (South Asia, 2011), Heather McCurdy (Global, 2011), Arindam Mukherji (South Asia, 2011), Ruben Menon (South Asia, 2012).
Row 4: Claire Walsh (Global, 2012), Putul Gupta (South Asia, 2013), Sabahat Ali Khan (South Asia, 2013), Claudia Macías (Latin America and the Caribbean, 2013), Lina Marliani (Southeast Asia, 2013).
This page reflects information as of January 2023.