Your unrestricted contribution is critical to improving lives through rigorous research, policy engagement, capacity building, and scaling up effective programs to reach millions.
To me, what's really great about J-PAL is that it's producing scientific evidence that can help make our anti-poverty efforts more effective.

— Bill Gates, Founder, Bill & Melinda Gates Foundation
Fund critical policy-relevant research
Our field research, implemented with a local partner, not only helps provide relevant answers to critical questions for policymakers, but also builds upon the knowledge of effective interventions in the fight against poverty.

Your gift allows us to fund competitive grants for J-PAL affiliated researchers—leading academics at universities around the world—to work with policymakers on highly policy-relevant projects. Funds for initial travel to map out the local context to existing evidence, craft innovative interventions, collect surveys in the field, or pilot the first phase of a project enable researchers to ensure their work is responsive to the specific needs of a community.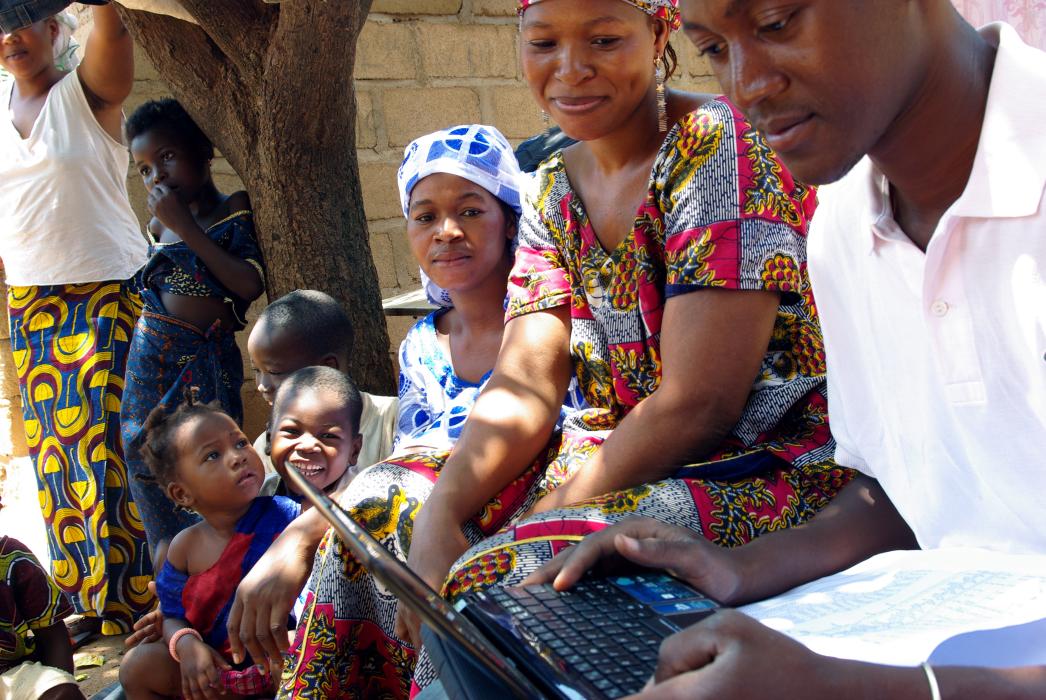 A baseline health survey takes place in Bamako, Mali. Photo: Nicoló Tomaselli | IPA/J-PAL
The Laureates' research findings—and those of the researchers following in their footsteps—have dramatically improved our ability to fight poverty in practice. As a direct result of one of their studies, more than five million Indian children have benefitted from effective programmes of remedial tutoring in schools.

— Nobel Prize Committee, Royal Swedish Academy of Sciences. J-PAL's founders were awarded the Nobel Memorial Prize in Economics in 2019.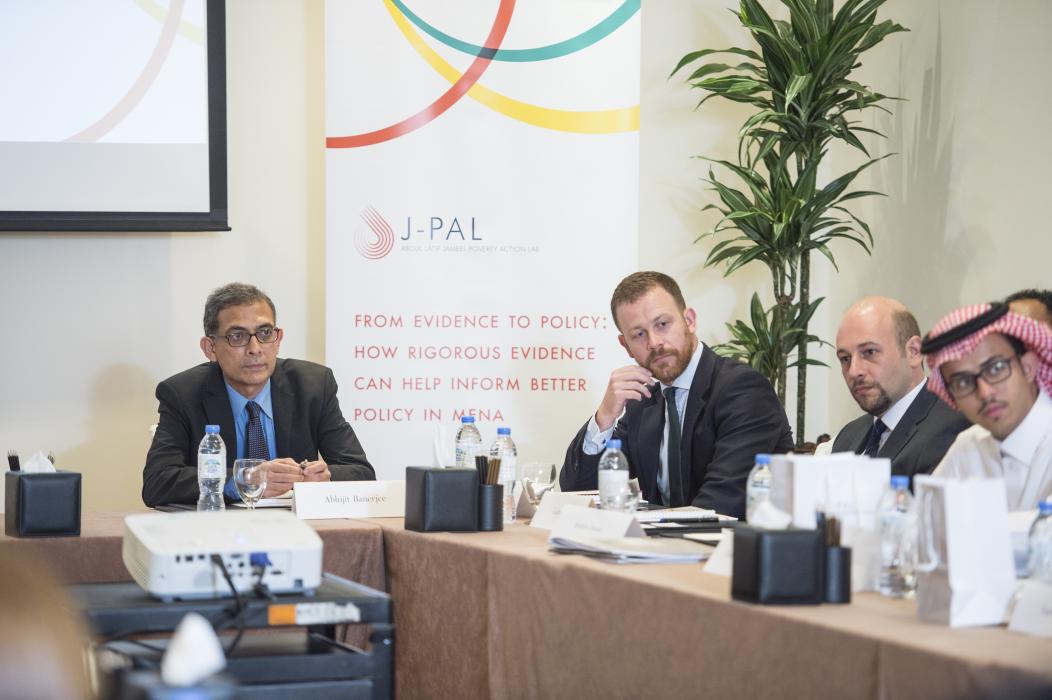 J-PAL Director Abhijit Banerjee attends an Evidence to Policy event in Dubai. Photo: Community Jameel
Bring evidence to policy
We distill results from randomized evaluations into policy insights that are clear, concise, and relevant to policymakers. We help governments, non-profits, donors, and the private sector apply evidence from randomized evaluations to their work, and contribute to public discourse around some of the most pressing questions in social policy and international development.

Your gift will help J-PAL to build teams around the world who can form close partnerships with policymakers to implement and scale evidence-based programs. This support enables us to advocate for evidence use in development at needle-moving conferences, present tailored evidence to policymakers, establish evidence-use labs within government offices and non-profits, and quickly leverage short policy windows for change.

Learn more about our impact.
In Egypt, the government is firmly committed to ensure an enlightened future for Egyptians. We believe that promoting the utilization of evidence-based policy is our way forward to augment and complement such efforts, ultimately translating our broad aspirations into tangible outcomes for Egyptians.

— H.E. Nivine Al-Kabbaj, Minister of Social Solidarity, at the launch of the Egypt Impact Lab, a partnership between J-PAL and the Egyptian Government
Build capacity of users and producers of evidence
We train the future generation of researchers and policymakers to better use evidence in their work through university-level open online courses and tailored in-person training programs delivered around the world. 
Your gift helps build research resources for public use; develop new training offerings customized for the needs of researchers, donors, and policymakers; and sponsor students in low- and middle-income countries to participate in the joint MIT/J-PAL Master's in Data, Economics, and Development Policy (DEDP) at MIT.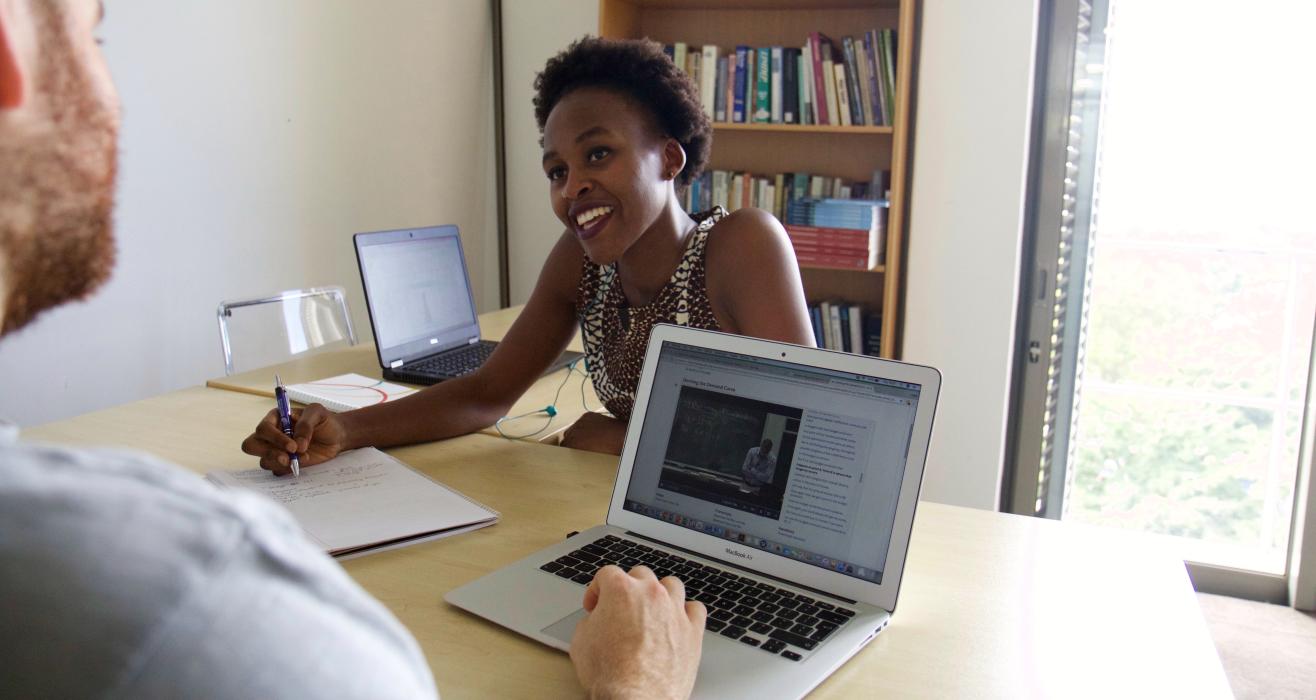 J-PAL Africa staff Palesa Thinta and Lloyd Belton reviewing MicroMasters material in Cape Town, South Africa. Photo: Aimee Hare | J-PAL
A major bottleneck in poverty alleviation is not just monetary donations but also expertise to deploy resources most effectively. We've hired some fantastic DEDP students, many of whom go on to embed in institutions leading social change efforts.

— Noam Angrist, Executive Director of Youth Impact
Donations through this page are received by J-PAL's host university, MIT, a registered 501(c)3 organization. Donations are tax deductible in the United States to the extent allowed by law.