What makes the J-PAL/UC Diploma in Impact Evaluation unique? Members of the '22 cohort tell us about their experience
For many years, J-PAL LAC has been working on expanding access to our training programs and increasing the diversity of participants. The Diploma in Impact Evaluation of Public Policy and Social Programs—offered jointly by J-PAL Latin America and the Caribbean (LAC) and Pontificia Universidad Católica de Chile (UC)— changed from in-person to virtual instruction in 2021, and provided new scholarship opportunities. This allowed producers and users of evidence from all over LAC to join the Diploma; as a result, the 2022 cohort is an especially diverse class, bringing together students from different fields, countries, and backgrounds to learn from J-PAL affiliated professors (Francisco Gallego, Jeanne Lafortune, and Claudia Martínez), UC Chile professors (Tomás Rau), and J-PAL LAC staff, and engage with members of their cohort. 
Some learners shared why they chose this Diploma, which takes place synchronously (learners virtually attend class sessions at the same time as their instructor and classmates—in other words, not self-paced) and is taught entirely in Spanish. The program consists of three courses: Impact Evaluation Methods, Evidence and Policy, and Implementation of an Impact Evaluation. These testimonials include learners' perspectives on what they consider the most important advantages of this online program and how they will apply what they learned in their own work and institutions.
The Diploma in first person
Juan Carlos Atoche, a Diploma student from the World Bank Group, decided to enroll in the Diploma for the academic prestige of J-PAL LAC and Pontificia Universidad Católica de Chile, and the benefits of a synchronous online program: "I needed to learn from the best and J-PAL and the UC School of Economics have international prestige. Also, I needed to access a program that operates remotely."
Yadiraah Estefany Iparraguirre Cieza from Innovations for Poverty Action (IPA) highlighted the technical inputs the Diploma has given her: "The Diploma has helped me to consolidate technical knowledge specific on impact evaluations. I feel that I have a better understanding of the good practices and protocols that I must follow in studies with people."
Valentina Reyes Fáez from Fundación Volando en V,  which works to reduce and prevent bullying in Chilean schools, stated the importance of this training for its projects in 2023: the organization will design its first impact evaluation. She added that the courses "shed light on how to put into practice an impact evaluation of a social program. Professors are excellent educators. They transmitted their knowledge in a pedagogic and understandable way. In addition, the classes have a real balance between theory and practice. They integrate the knowledge into real projects, which I think is a great plus of the diploma."
Increased diversity in our Diploma program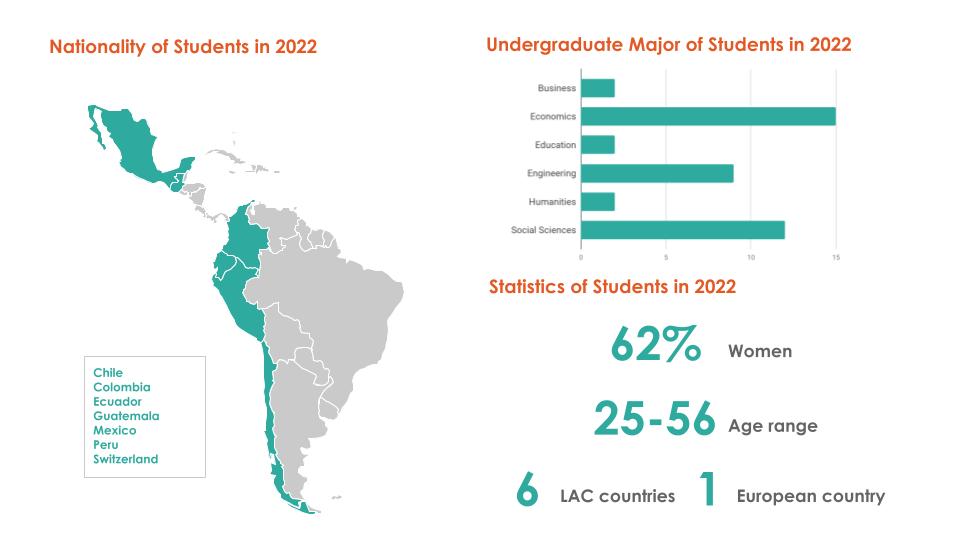 The 2022 Diploma has students from different backgrounds and nationalities.
Since 2016, the Diploma has provided students with the necessary tools to design and understand the results of rigorous program evaluations.
"Exclusively online classes and scholarship opportunities have allowed for greater diversity in the classroom, one of J-PAL's core values. This year, the generous support of Fundación Colunga, Fundación Olivo, and Fundación San Carlos de Maipo, together with discounts from UC, covered 85% of the tuition for twelve incoming students. This allowed more candidates to join and benefit their organizations with what they learn," says María Paz Monge, J-PAL LAC Senior Policy and Communications Manager.
The 2022 Diploma cohort has 42 students from six countries in Latin America and the Caribbean, and one European country, with undergraduate studies ranging from Economics to Social Sciences and Engineering, and 62 per cent of students are women.
"We expect that our students will benefit from the Diploma's diversity, the tools, and local cases presented in classes. Also, their experience is enriched by the continuous interactions with J-PAL affiliated professors and the staff, so they gain knowledge from a theoretical, but also a practical and applied perspective," added Diana Suárez, J-PAL LAC Research and Training Manager.
As a result of increased diversity, we see the program gets stronger and offers a variety of perspectives to students.
Jeanne Lafortune, J-PAL affiliate and director of the Diploma in Impact Evaluation of Public Policies and Social Programs, invites professionals interested in sharpening their social impact skills to join this group: "Be part of a large community of international students interested in social impact programs."
Join the Diploma program
For those interested in joining the Diploma, the next application cycle will open in June 2023. In the meantime, interested applicants can start their journey by following our communications through our newsletters and social media channels (Twitter or LinkedIn) to learn about upcoming webinars and blog posts. Complete this form to get the latest Diploma news in your email!