Government Partnerships in LAC
Our work is made possible by the close collaboration with and dedication of many governments across the region. Together, we are driven by a shared belief in the power of scientific evidence to understand what is effective in the fight against poverty.
Given their extensive role in delivering social services to people experiencing poverty, governments have long been critical partners in J-PAL's mission to reduce poverty and improve social policy around the world. Since its foundation in 2009, the Latin America and the Caribbean (LAC) office has worked with governments at national and sub-national levels in eight countries to co-create and use evidence, help train practitioners and policymakers in evidence-use, and strengthen systems to enable and encourage meaningful engagement with evidence and data. In our experience, we have found that supporting governments to direct their spending to more cost-effective policies and programs can have immense social returns.
Evidence to Policy Partnerships in LAC
To design and implement more effective policies, governments need easier and more innovative ways to build data and evidence into the design and implementation of social programs. J-PAL LAC works with governments to address the various obstacles that come in the way of building a culture of evidence use in the policymaking process.  
We believe that governments can implement better policies by adopting a culture of evidence use and following the so-called Learning Cycle. Throughout the Learning Cycle, policymakers identify the policy issues they want to address and the existing evidence on the topic, design and evaluate interventions to address those issues, disseminate and apply the main insights from the process, and scale the effective programs.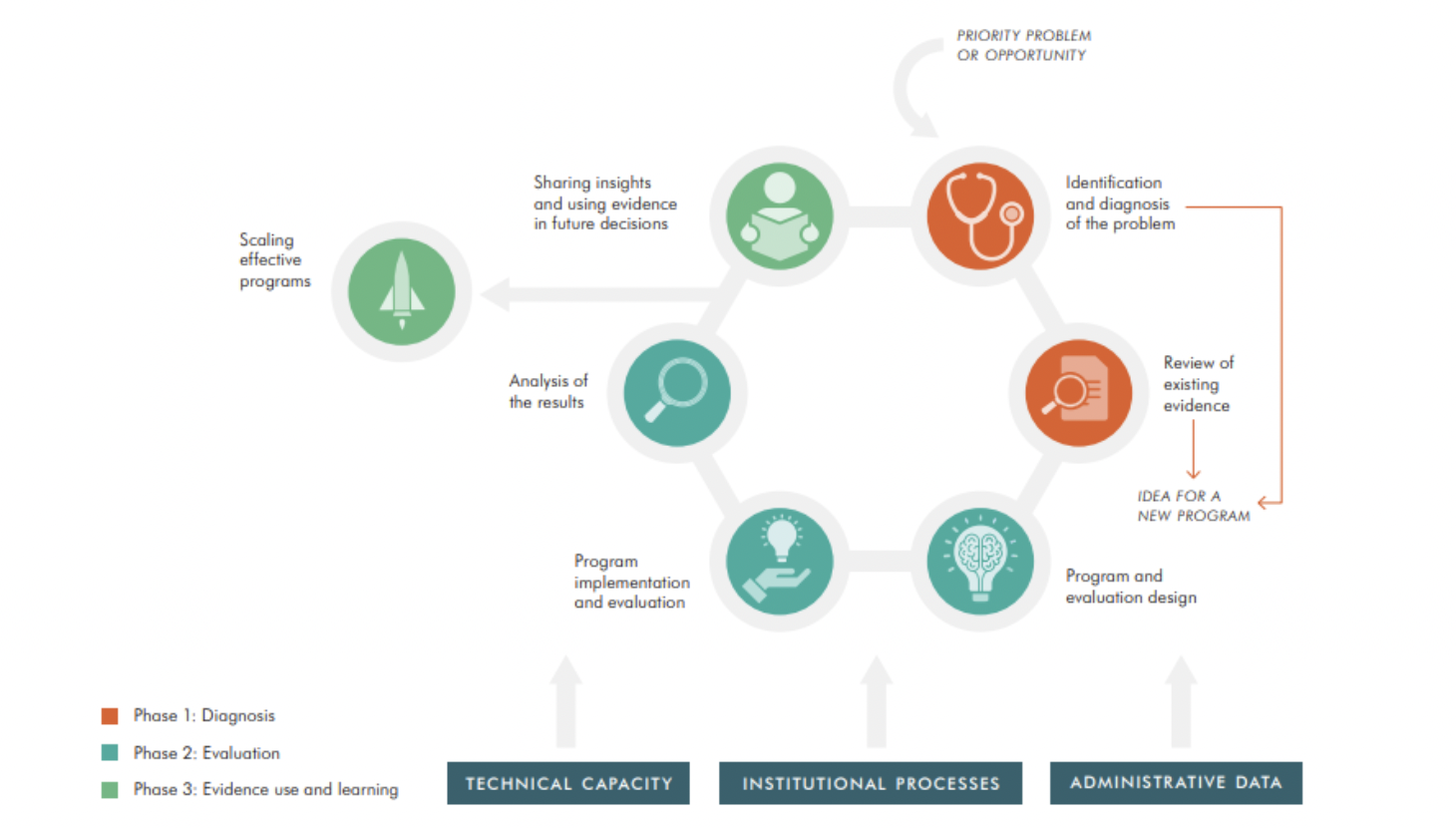 Figure: The Learning Cycle | J-PAL
While the Learning Cycle as a conceptual tool is straightforward, in practice, every government will have unique starting conditions, capacities, and constraints. Governments interested in increasing the use of data and evidence in their decision-making processes can often benefit from collaborating with evidence-to-policy organizations like J-PAL. We can support partner governments in specific phases of the Learning Cycle or strengthen their technical capacities, institutional processes, or use of administrative data.
The report, "Creating a Culture of Evidence Use: Lessons from J-PAL's Government Partnerships in Latin America," shares examples of our government partnerships in Latin America, featuring insights from interviews with officials from fifteen of our partner agencies and the lessons learned about building a culture of data and evidence use in government. 
Examples of institutional support
Strengthening capacities among civil servants in LAC
J-PAL courses help implementers, policymakers, and researchers become better producers and users of evidence and equip learners worldwide with skills in data analysis and economics. 
J-PAL LAC has trained more than one thousand civil servants from many public institutions. Some examples include: 
Brazilian Ministry of the Environment. Together with the Climate Policy Initiative, CPI
Brazilian Ministry of Social Development
Budget Department, Chilean Ministry of Finance (Dirección de Presupuestos, DIPRES)
Chilean Ministry of Social Development and Family (Ministerio de Desarrollo Social y Familia - MDSF)
Chilean Ministry of Housing (Ministerio de Vivienda y Urbanismo -MIMVU)
National System of Evaluation, Colombian National Planning Department (Sistema Nacional de Evaluación de Gestión de Resultados - SINERGIA)
Council of Science and Technology from the State of Mexico (Consejo Mexiquense de Ciencia y Tecnología - COMECYT) 
Mexico City Women's Secretariat (Secretaría de las Mujeres -SEMUJERES) 
Mexican National Council of Social Development Policy Evaluation (Consejo Nacional de Evaluación de la Política de Desarrollo Social - CONEVAL)
Paraguayan Ministry of Finance
Peruvian Ministry of Education (Ministerio de Educación - Minedu). In partnership with IPA Peru. 
Peruvian Ministry of Women and Vulnerable Populations (Ministerio de la Mujer y Poblaciones Vulnerables - MIMP). In partnership with IPA Peru.
Peruvian Ministry of Production
On top of this, in collaboration with the Brazilian National School of Public Administration (Enap), we launched a massive online open course (MOOC) on Impact Evaluation of Social Programs and Policies. The course is delivered in Portuguese, is self-paced, and is offered for free.
Running randomized evaluations to answer important policy questions in LAC
Sharing evidence to inform policymaking in Chile and Peru
Since it was opened in 2009, our office has been helping governments identify the most pressing issues, inform the debate around them, and propose innovative solutions. 
For example, in 2010, due to a request from the Chilean Ministry of Planning (MIDEPLAN), J-PAL LAC convened a commission of experts to identify the main social policy challenges in the country and propose innovative solutions. For six months, the so-called Compass Commission identified priority problems, proposed several interventions and evaluation strategies to assess them, and, after receiving inputs from several public agencies, selected the four most promising interventions.
The experience in Chile inspired a similar effort in Peru. Together with IPA Peru, we collaborated with the Ministry for Social Development and Inclusion and the Ministry of Economics and Finance in the Quipu Commission. This commission focused on issues related to social development and inclusion and suggested implementing and evaluating seven proposals. 
Similarly, we participated in Compromiso País, an initiative organized by the Chilean central government where the public sector, academia, civil society, and private sector worked together to address sixteen priority issues nationwide. After a series of round tables in which we shared evidence on promising programs, the participants identified several potential solutions for problems ranging from lack of access to sanitary systems to insufficient school participation.
Examples of collaborations by sector
A government innovation lab to improve education in Peru
The Peruvian Ministry of Education, with assistance from J-PAL and Innovations for Poverty Action (IPA), created MineduLAB—an innovation hub housed within the ministry that designs, implements, evaluates, and scales effective solutions to educational challenges. As of 2022, MineduLAB has conducted or is conducting thirteen randomized evaluations and has committed to scaling up three programs found to be effective. MineduLAB has also informed the design of similar innovation laboratories in Latin America. Read the Evidence to Policy Story >>
Collaborating with the Women's Secretariat in Mexico City to prevent intimate partner violence
Since 2020, Mexico City Women's Secretariat (SEMUJERES) and J-PAL LAC have run a collaborative effort to design and pilot an intervention to reduce intimate partner violence and prevent femicide. J-PAL affiliated professors Gustavo Bobonis (University of Toronto), Manishah Shah (UCLA Luskin School of Public Affairs), and Claudio Ferraz (University of British Columbia and PUC Rio) work closely with embedded staff to run a pilot of a gender norms change program. 
This collaboration has made progress in institutionalizing an evidence-based policymaking culture among SEMUJERES' civil servants. For example, based on an extensive review of evaluations done in other countries, SEMUJERES modified the 2022 operational rules of the conditional cash transfer program "Bienestar para las Mujeres en Situación de Violencia" (Wellbeing for Women Experiencing Violence). Likewise, SEMUJERES designed baseline and end surveys to start retrieving administrative records to understand the effect of conditional cash transfers on women's wellbeing. These surveys were based on J-PAL's research resource, A Practical Guide to Measuring Women's and Girls' Empowerment in Impact Evaluations.
Finally, J-PAL LAC carried out a seven-day gender lens training for SEMUJERES staff focused on building capacities through understanding what randomized impact evaluations are and how they are designed and used. In addition, during the training, participants reviewed the Theory of Change methodology and the operationalization of instruments for measuring complex concepts, such as empowerment. 
Generating and using evidence to reduce gender-based violence in Peru
In 2016, the Peruvian Ministry of Women and Vulnerable Populations (MIMP), Innovations for Poverty Action (IPA) Peru, and J-PAL LAC started a collaboration to find effective ways to address gender-based violence. The main goal of this alliance is to develop a learning cycle for the institutionalization of evidence-informed policies, which involves diagnosing the problem and gathering relevant scientific evidence, designing and evaluating interventions that address it, and using the results to inform policy decisions. On top of this, the collaboration also seeks to ensure that local teams have the capacity to participate actively in the different stages of the learning cycle.
Environment, Energy, and Climate Change
Reducing overfishing in Chile
After taking part in an incubation program organized by the Chilean Budget Office and delivered by J-PAL LAC, the Chilean National Fish Service (Sernapesca) partnered with affiliated researcher Mushfiq Mobarak (Yale University) and Andres Gonzalez-Lira (UC Berkeley) to evaluate different strategies to ensure compliance with seasonal fishing bans of the pacific hake. The randomized evaluation found that both consumer information campaigns and vendor enforcement strategies were effective in reducing the availability of illegal hake in local markets. Informed by the results of the evaluation and the cost-effectiveness analysis, the Chilean National Fish Service expanded the consumer awareness campaign evaluated in the study and adapted its enforcement tactics. Read the Evidence to Policy Story >>
Improving labor courts in Mexico
 J-PAL affiliates Enrique Seira (ITAM) and Christopher Woodruff (University of Oxford), together with Joyce Sadka (ITAM) worked closely with the Mexico City Labor Courts to address the large case backlogs and the lack of information that workers face to make informed decisions related to their cases. With funding from J-PAL's Governance Initiative (GI) and J-PAL's Innovation in Government Initiative (IGI), they ran a randomized evaluation that found that providing workers with customized information on predicted case outcomes or asking them to meet with court conciliators (mediators) increased settlement rates and led plaintiffs to higher-valued payouts. With these results in hand, the approach was expanded to five courts across Mexico City and government officials passed a broad reform of the Mexican national labor law, which now requires workers to meet with a conciliator before taking a severance case to trial, among other provisions. 
As the reform scales nationally from 2019-2023, members of the research team continue to work closely with the Labor Courts to evaluate the effectiveness of the new policy and feed these insights back to the government to inform implementation. Additionally, the research team was awarded funds from the Fund for Innovation Development (FID) to continue working on innovations to enhance and facilitate access to justice for vulnerable workers. Read the Evidence to Policy Story >>
 
Designing a social protection program during Covid-19 in Chile
In Chile, J-PAL affiliated researchers Francisco Gallego and Claudia Martinez were part of a team of economists and policy experts from the UC Chile, who, along with staff from the J-PAL LAC office, supported the government in the design of a cash transfer program for workers who were not formally employed or previously registered in the government's database of beneficiaries. Based on findings from 24 randomized evaluations looking at the effectiveness of different types of transfers and delivery schemes, the team drafted a proposal that helped inform the design of Chile's Ingreso Familiar de Emergencia (IFE) program. Read the Evidence to Policy Story >>.
J-PAL LAC government partnerships experience for improving education in Peru
With support from J-PAL and IPA, the Ministry of Education in Peru created a dedicated unit to identify, test, and scale low-cost interventions to improve educational outcomes. In this video, Juan Pablo Silva, former Vice Minister of Institutional Management of the Ministry of Education of Peru, highlights how J-PAL and IPA helped consolidate the culture of evidence-based decision-making in the institution.