Shagun Sabarwal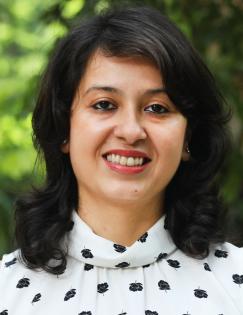 Director of Policy, Training and Communications, J-PAL South Asia
Shagun Sabarwal is Director of Policy, Training, and Communications at J-PAL South Asia, and Director of CLEAR South Asia.
She leads J-PAL South Asia's engagements with governments, donors, and civil society organizations to initiate new research, disseminate policy lessons, and scale up evidence-based programs. As Director of CLEAR South Asia, she promotes the center's mission to strengthen the monitoring, evaluation, learning systems, and data use of decision-makers in the region through capacity building and advisory services.
She provides technical and strategic direction to J-PAL South Asia's partnerships with state and central governments, including the Development Monitoring & Evaluation Office (DMEO) at NITI Aayog, the Department of Personnel and Training (DoPT), and the State Governments of Odisha, Tamil Nadu, and Punjab.
She advances J-PAL South Asia's work as a catalyst for government scale-ups of evidence-based programs, and as a technical and knowledge partner for building monitoring and evaluation systems that ensure quality at scale.
She is currently leading J-PAL South Asia's role as a knowledge partner to the Government of Bihar for the scale-up of the Graduation approach, and is a principal investigator for a process evaluation and a randomized evaluation on the adaptation of the Graduation approach by governments.
Prior to joining J-PAL, Shagun was an Evaluation Specialist with 3ie and a Postdoctoral Fellow at Population Council. She completed her doctorate in public health from Harvard University.