J-PAL South Asia, based at the Institute for Financial Management and Research in India, leads J-PAL's work in the South Asia region. J-PAL South Asia conducts randomised evaluations, builds partnerships for evidence-informed policymaking, and helps partners scale up effective programmes.
We have a growing number of partnerships in Bangladesh, India, Nepal, Pakistan, and Sri Lanka. In 2011, we were selected to host the South Asia Center for CLEAR, a global initiative coordinated by the World Bank's Independent Evaluation Group. Under this initiative, we host a knowledge sharing roundtable series and equip practitioners with the expertise to carry out rigorous evaluations through training courses, advisory services, and joint research projects.

Message from J-PAL South Asia Executive Director, Shobhini Mukerji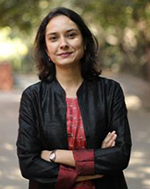 In March 2020, the onset of the Covid-19 pandemic and the imposition of a nationwide lockdown in India prompted an overhaul of even longstanding institutional structures. Public school systems reckoned with prolonged school closures and government social security ecosystems as well as public health apparatuses faced their toughest stress test in living memory. 
While early 2021 brought with it a reduction in the number of daily cases, this respite was short lived. As of April 2021, rising numbers of Covid-19 infections in India have sent shockwaves across the country and pushed the country's health infrastructure to the brink. 
From the beginning of the pandemic and into this deadly second wave, J-PAL South Asia has prioritized caution in face of uncertainty: staff and leadership embraced the challenge to  pivot support to our partners and address new policy challenges, while keeping safety paramount. Throughout, we have been closely monitoring the on-ground situation across the states and districts in which we work, and have taken systematic measures to suspend all field research activities to ensure the safety and well-being of our staff and the communities we work with. All J-PAL South Asia offices are currently closed and travel halted. However, we continue to be available to our partners and stakeholders to engage and support them in this crisis.  
We thank our staff and partners for their continued support during this unprecedented calamity. We have a long road ahead, of great opportunities and lots of good work in the fight against poverty. But right now, our focus must be singly on the health and well-being of all our staff, our families, and our responsibility towards the communities we live and work in. 
We are continuing to work closely with our partners and informing their decisions with evidence.
Please visit our Covid-19 Research and Policy webpages for more information on our efforts. 
 
Shobhini Mukerji
Executive Director, J-PAL South Asia
April 23, 2021
More about J-PAL South Asia
Learn more about our Covid-19 Policy and Research work, as well as our ongoing research initiatives, upcoming events, and how to engage with the J-PAL South Asia team.
To stay up to date with the latest at J-PAL South Asia, subscribe to our quarterly newsletter.