Increasing Access to Security and Justice through Women's Help Desks in Police Stations in India
Location:
Madhya Pradesh, India
Sample:
180 police stations across 12 districts
Outcome of interest:
Arrests and convictions
Citizen satisfaction
Violence
Poor and marginalized citizens, particularly women, often lack access to a responsive police force and, consequently, experience diminished security and high levels of crime and violence. Efforts to address such issues often include gender-targeted policing interventions, but the underlying assumptions as well as impacts of such interventions have not been rigorously studied to date. Researchers are studying these issues in the context of India, a country plagued by rising rates of gender-based violence coupled with low rates of reporting of such crimes. Researchers are employing an RCT to evaluate whether the establishment of police station-level Women's Help Desks (WHDs), as well as the deployment of additional female personnel to these WHDs, improves the responsiveness of frontline officers to women, as well as levels of crime and crime reporting.
Policy issue
Poor and marginalized citizens, particularly women, often lack access to responsive police forces and, consequently experience diminished security and high levels of crime and violence. Women from poor communities may lack trust in the police and hence, may be hesitant to report crime, further limiting their access to security and justice. It is possible that, by introducing gender-targeted services in police stations, women can be encouraged to report incidents of gender-based violence. One such service could involve providing women access to female police officers and creating specialized help desks in police stations. However, open questions remain about the effectiveness of gender targeted policing services. Will providing specialized gender services in police stations encourage women to approach the police and utilize these services? Further, will women be more comfortable approaching female officers and will female officers, in turn, respond to their requests with greater sensitivity?
Context of the evaluation
Underreporting of gender-based violence is a particularly acute issue in India. Thirteen percent of women in the four largest cities of Madhya Pradesh, which is the site of this evaluation, reported experiencing intimate partner violence, but only one percent reported these incidents to the police.1 Several programs have been implemented in India to improve police responsiveness to women, including assigning police to patrol crime hotspots, introducing helplines for women, and developing women-only police stations. However, questions remain regarding the effectiveness of providing gender sensitive services in increasing reporting and action taken against gender-based violence.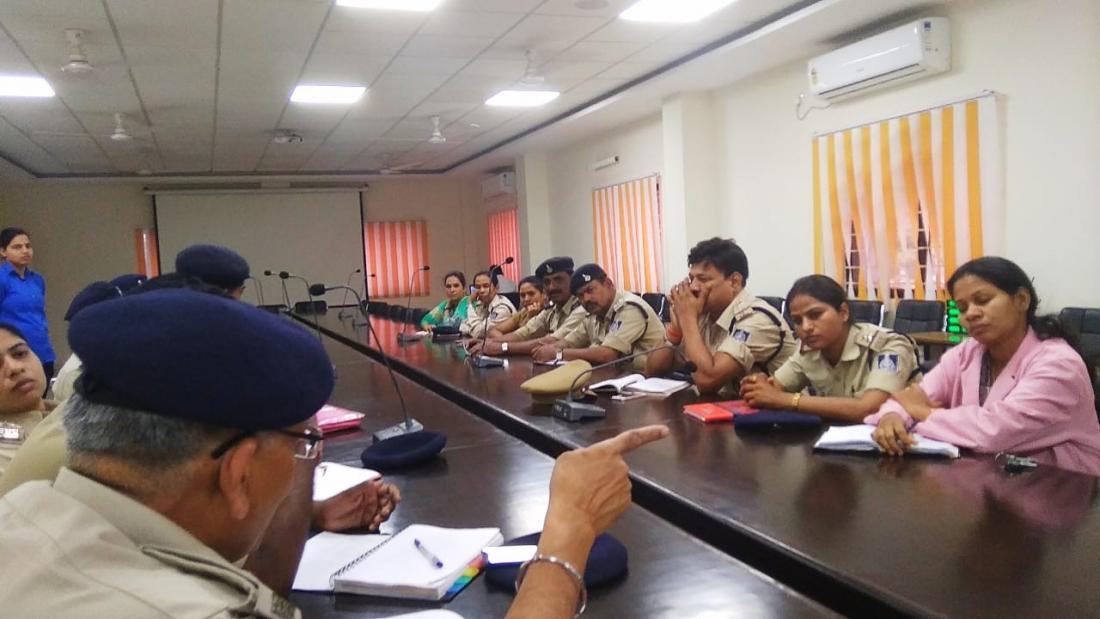 Details of the intervention
In partnership with the Madhya Pradesh Police Department, researchers are conducting a randomized evaluation to study if creating women's help desks—which offer specialized assistance to women in pre-existing police stations—increases police responsiveness and reporting of gender-based violence. Previous efforts to offer specialized services in police stations, implemented at the district or urban levels, were often inaccessible to women living in remote rural areas. This program attempts to mitigate such barriers to access by creating women's help desks in local police stations. These help desks will combine the following program components:
The creation of physical spaces within the police station mandated to assist women and designed to ensure basic privacy and protection to women seeking assistance

Training officers assigned to the help desks program to operate in accordance with a set of standardized procedures

Outreach to local women's networks in order to socially embed the help desks and help prevent public shaming or violent retaliation to crime reporting, the fear of which may inhibit women from approaching the police

Allocation of additional women officers to the help desks. Officers will be pulled from new trainees recruited as a result of a policy change within the state police department, requiring 30 percent of all new recruits to be women. 
In twelve districts in Madhya Pradesh, researchers will randomly allocate police stations to one of two program groups, both of which will be mandated to start help desks, or to a comparison group, which will not receive help desks. Police stations in the first group will receive the first three program components listed above, while those in the second program group will receive all four components. Comparing the two program groups will illustrate the impacts arising from allocating additional female personnel to help desks, beyond the effects of the help desks themselves. 
Police stations in the program groups will be monitored to ensure that they comply with the program requirements. Thus, this study will provide insights about whether women are more likely to approach the police if they are provided specialized services, and if these services are delivered by women officers. To measure the impact of the program, researchers will study outcomes such as citizen perceptions, police officer perceptions, women contacting the police, crimes registered, and action taken on these crimes. 
Results and policy lessons
Research ongoing; results forthcoming
1.
Neville, Sally, Lyndsay McLean Hilker, Macartan Humphreys, Sohail Husain, Sarah Khan, Summer Lindsey, 2015. Evaluation of the Madhya Pradesh Safe Cities Initiative. Baseline Report. London: DFID.