KiuFunza: Improving Early Grade Learning Outcomes in Tanzania
Fieldwork:
Location: Tanzania
Sample: 350 schools with 14,000 students
Outcome of Interest:
Student learning
Provider performance
Intervention Type:
Cash transfers
Incentives
Partners:
Student learning levels across East Africa remain extremely low, despite more than a decade of major reforms and significant new investments in public education. To help generate rigorous evidence on what works, researchers are evaluating the impact of an education intervention that sends grants directly to schools and pays teachers a performance-based bonus.
Policy Issue
Overall student-learning levels remain extremely low across East Africa, despite a decade of major reforms and significant new investments in public education. In Kenya, Tanzania, and Uganda, recent nationwide surveys show that large numbers of children are unable to read or do arithmetic at their grade level.1 Governments in in the region are currently using two main approaches to improve the quality of education: strengthening teacher training and disbursing capitation grants, which provide funding to schools based on the number of students enrolled. However, the efficacy of these approaches in improving learning outcomes has not been established. In fact, several studies show that formal levels of teacher qualification are weakly correlated with performance.2 Capitation grant programs have not been rigorously evaluated, and many of these programs lack accountability measures and incentive structures. Evidence suggests that rewarding teachers or schools that achieve learning outcomes may be a more effective way to improve student learning and performance.3 This evaluation aims to add to the evidence on this topic.
Context of the Evaluation
Educational outcomes in Tanzania have not improved in recent years, despite several new reforms and aid initiatives. Just 68 percent of Tanzanian children aged 10-16 can pass a basic numeracy test, 53 percent can pass a basic test in Kiswahili, and only 35 percent can pass an English literacy test.

In February 2013, Twaweza, Tanzania's Commission for Science and Technology, and IPA-affiliated researchers launched KiuFunza, an education initiative that seeks to discover through rigorous research what really works to help children learn. Twaweza, the implementing partner, is a nonprofit focusing on large-scale change in East Africa, with operations in Tanzania, Kenya and Uganda.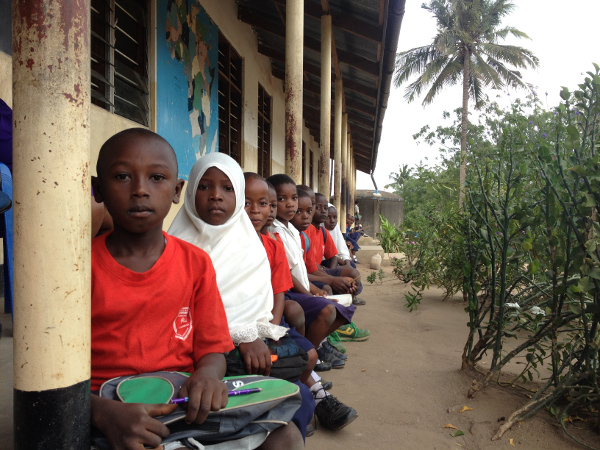 Details of the Intervention
Researchers conducted a randomized evaluation over a two-year period to test the impact of performance-based grants for schools and teachers on student learning and performance. Government primary schools in 11 districts in Tanzania were divided into three treatment groups and a comparison group:
Capitation Grant: Each school received a grant of 10,000 Tanzanian shillings (US$ 5.84) per student enrolled, delivered in two disbursements per year: the first in April or May and the second in July or August. Twaweza channeled grant funds directly to primary schools, and provided information about the grants to school stakeholders, including teachers, school management committees, local politicians, parents and students via informational meetings and written materials. Researchers will measure what portion of funds actually reach schools, the level of citizen engagement in determining the use of funds, and, ultimately, the impact on learning outcomes. (70 schools)

Cash on Delivery: Kiswahili, English, and Math teachers in Grades 1-3 were eligible to receive 5,000 Tanzanian shillings for each student who passed a given subject test at the end of the year, for a total of 15,000 Tanzanian shillings per student. Teachers were not penalized for students who did not pass. Researchers will measure the impact of incentivizing teachers on learning outcomes for students in Grades 1-3. (70 schools)

Combination: These schools received both the capitation grant and cash on delivery interventions. This arm of the evaluation will reveal whether rewarding teachers for good student performance can create incentives to make better use of the capitation grants. (70 schools)

Comparison group: This group did not receive either the capitation grant or cash on delivery treatment. (140 schools)
Researchers will use government test scores, results from the tests conducted by Twaweza, results from independent tests conducted by the researchers, school administrative records, and data from six surveys (three per year), to measure changes in school performance and student learning.

Twaweza and their partners in each district directly implemented all interventions, and Twaweza provided the funds for the grants and cash on delivery interventions.
Results and Policy Lessons
Mbiti, Isaac, Karthik Muralidharan, Mauricio Romero, Youdi Schipper, Constantine Manda, and Rakesh Rajani. "Inputs, Incentives, and Complementarities in Education: Experimental Evidence from Tanzania." Working Paper, July 2018
1 Jones, et al. "Can your child read and count? Measuring learning outcomes in East Africa." Journal of African Economies 0 (0); 1-30. (2014).
2 Kane, T. J., J. E. Rockoff, and D. O. Staiger. (2008). "What Does Certification Tell Us About Teacher Effectiveness? Evidence from New York City," Economics of Education Review, 27, 615-631; Kleiner, M. (2000). "Occupational Licensing," Journal of Economic Perspectives, 14, 189-202.
3 Kremer, Michael, and Alaka Holla. "Improving education in the developing world: what have we learned from randomized evaluations?" Annual Review of Economics 1 (2009): 513; Woessmann, Ludger. "Cross-Country Evidence on Teacher Performance Pay." Discussion Paper No. 5101, July 2010.