Providing Information about Job Seekers' Skills to Increase Employment Outcomes in South Africa
Location:
Johannesburg, South Africa
Sample:
6,900 job seekers
Target group:
Job seekers Youth
Outcome of interest:
Earnings and income Employment Attitudes and norms
Intervention type:
Information Job counseling Certification
Notes:
This evaluation is run by the J-PAL Africa office.
Youth unemployment rates are high across much of the world. One of many reasons cited for this is that employers have limited information about a candidate's skill set, especially young candidates who lack work experience. In South Africa, researchers are partnering with Harambee Youth Employment Accelerator to evaluate the impact of providing information about a job seeker's skills on job seekers' beliefs, search effort, and employment outcomes.
Policy issue
Globally, there were nearly 71 million unemployed young people, aged 15-24, in 2017, and youth were three times more likely to be unemployed than adults. One challenge thought to contribute to high youth unemployment rates is that employers often lack information about a candidate's skills (both their technical and soft skills) and motivation. Formal education does not necessarily indicate one's skills, especially in low-income countries where student learning levels remain low. It is costly and difficult for an employer to assess potential employee's skills. Similarly, it is difficult for job seekers to signal their potential value to employers, especially for young job seekers who may lack references from previous employment. Can providing more information on a job seeker's skills improve young people's employment outcomes?
Context of the evaluation
This study takes place in Johannesburg, South Africa. South Africa has a high rate of youth unemployment, with over half of young people unemployed as of 2018. This rate is particularly high for Black youth. Women can be particularly disadvantaged, as many South African firms hire through social networks, referrals, or word-of-mouth, and women may have less of these connections. Though men and women in urban South Africa have similar levels of education and employment, women's labor force participation rate, earnings, and returns to education are much lower than men's, in part due to the higher proportion of women in no or low skilled jobs. 
Harambee Youth Employment Accelerator is a social enterprise that builds solutions to address a mismatch of demand and supply in the youth labor market by connecting employers with first-time work seekers. At the time of the study, Harambee served roughly 100,000 unemployed youth annually. Harambee targeted young adults between the ages of 18-29 who graduated from high school, are from low-income backgrounds, are currently unemployed, have limited formal sector work experience, and have actively searched for work in the past 6 months. Over two days, participants complete assessments to evaluate their cognitive skills, literacy, numeracy, and aptitude for different career types. Based on their assessment results, some individuals join a program that prepares them for and places them in jobs with Harambee's partner employers. This evaluation focused on individuals who had completed the initial assessment, but were unlikely to receive placement into the full job readiness program.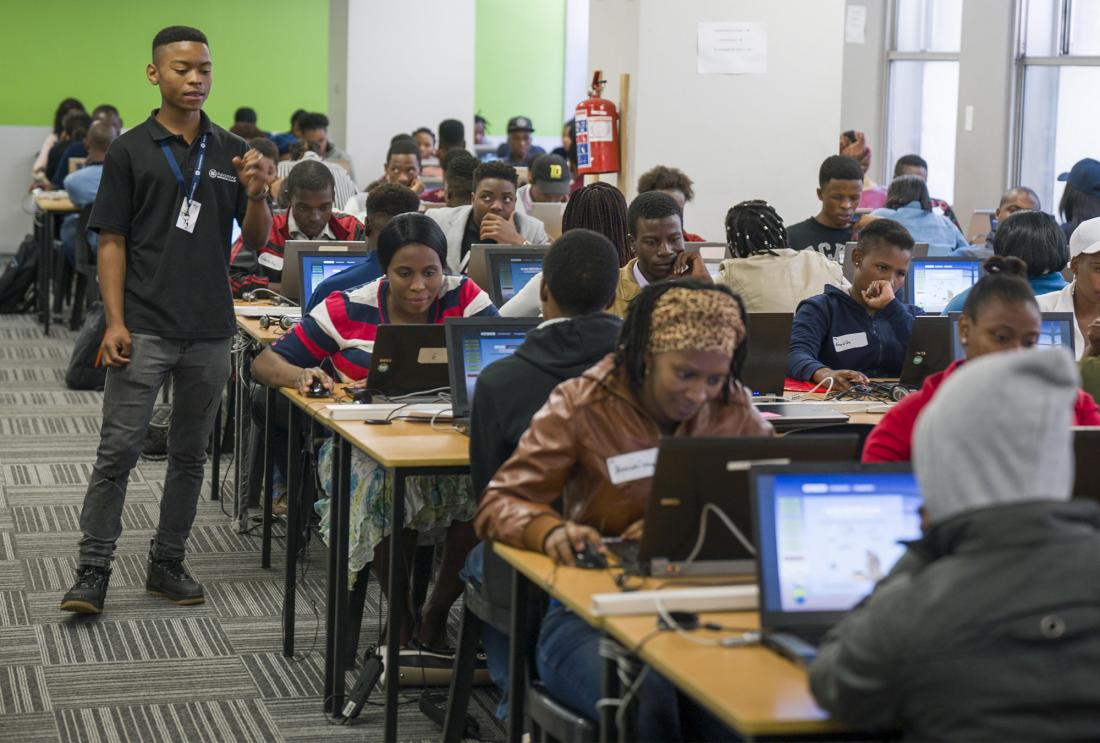 Details of the intervention
Researchers partnered with Harambee Youth Employment Accelerator to evaluate the impact of providing information about a job seeker's skills on beliefs about their skills and future earnings, search effort, and employment outcomes. Over two, not necessarily consecutive days, around 6,900 participants completed six assessments assessing numeracy, communication (both verbal and written), grit, focus, and planning skills. Between September 2016 and April 2017 and on the second day of assessments, researchers randomly selected by day if and how participants received the results from the assessments. To assess whether sharing this information with the job seekers only or encouraging applicants to share with prospective employers affected employment outcomes, researchers randomly assigned a third of participants to receive each of the following:   
Private feedback for job seekers only: Participants received a single copy of a black and white report with their assessment results, as well as a guide to interpreting the results and a group session to explain how these results might guide their job search process. The results ranked an individual's scores on each assessment by top, middle, or bottom third, rather than providing an absolute score. The reports did not contain a participant's name or other identifying information. 

Public feedback to share with prospective employers: Participants received a set of 20 printed reports of their relative scores on the assessments. These reports were printed in color, branded with both the Harambee and World Bank logos, and contained the job seeker's name and national identity number. During the group session, participations received additional guidance on how to share this report with employers. Participants in this group also received a soft copy of their report via email. 

No feedback: Participants took the six assessments, but received no results on their performance.
Researchers conducted surveys to collect information on participants' demographics, employment, and job search history, preferences for risk-taking and waiting, and beliefs about their skills and the returns to extra effort in their job search process. These surveys occurred at the time of the assessment, and 3-4 months and roughly a year later. To test if the branding of the public reports influenced how employers responded to the information provided, researchers also gave a smaller sample of participants reports identical in branding but without assessment results. 
Results and policy lessons
Study ongoing; results forthcoming.