Secondary School Scholarships to Increase Girls' Skill Development, Empowerment, and Job Opportunities in Niger
Sample:
2,360 girls in 285 villages
In many low-income countries, girls often drop out of school, marry, and have children early in life. This may create a cycle of gender inequality: women with less education may have limited job opportunities, strengthening their economic dependence on men and reinforcing gender norms that encourage girls to drop out of school. Niger has some of the largest gender inequalities in the world, including high rates of child marriage and low female labor force participation. The Government of Niger, the National Institute of Statistics, and the World Bank are partnering with researchers to evaluate the impact of secondary school scholarships for girls on skill development, empowerment, and job opportunities.
Policy issue
In many developing countries, gender inequalities begin at a young age and influence individuals' long-term trajectories. In particular, social norms can lead to girls dropping out of school, marrying, and having children early in life. Women with less education may then experience reduced empowerment and limited job opportunities. In turn, this can create a cycle of gender inequality: participating less in the labor force may increase economic dependence on men, strengthen the social norms that contribute to women dropping out of school, and further reduce future job opportunities for women. Can encouraging girls to stay in school and to develop skills improve their future economic and social trajectories?
Context of the evaluation
Niger ranks next to last on both the Gender Inequality Index (GII) and Gender Development Index (GDI) as developed by the United Nations, suggesting that women in Niger face stark challenges and inequalities. Gender inequalities begin at a young age as Nigerien girls drop out of school and marry young. In 2016, 20 percent of Nigerien girls were enrolled in secondary school.1 Furthermore, 28 percent of women aged 20-24 wed before age 15 and 76 percent wed before age 18. Female labor force participation is also one of the lowest in sub-Saharan Africa, with 40 percent of women over 15 working.

Despite its potential to improve women's empowerment and economic opportunities, girls' secondary school enrollment remains low. One possible reason for low enrollment may be the costs of secondary school. While secondary education is free, there is not a secondary school in every village. As a result, many parents have to pay so that their daughter can stay with a host family living closer to their school.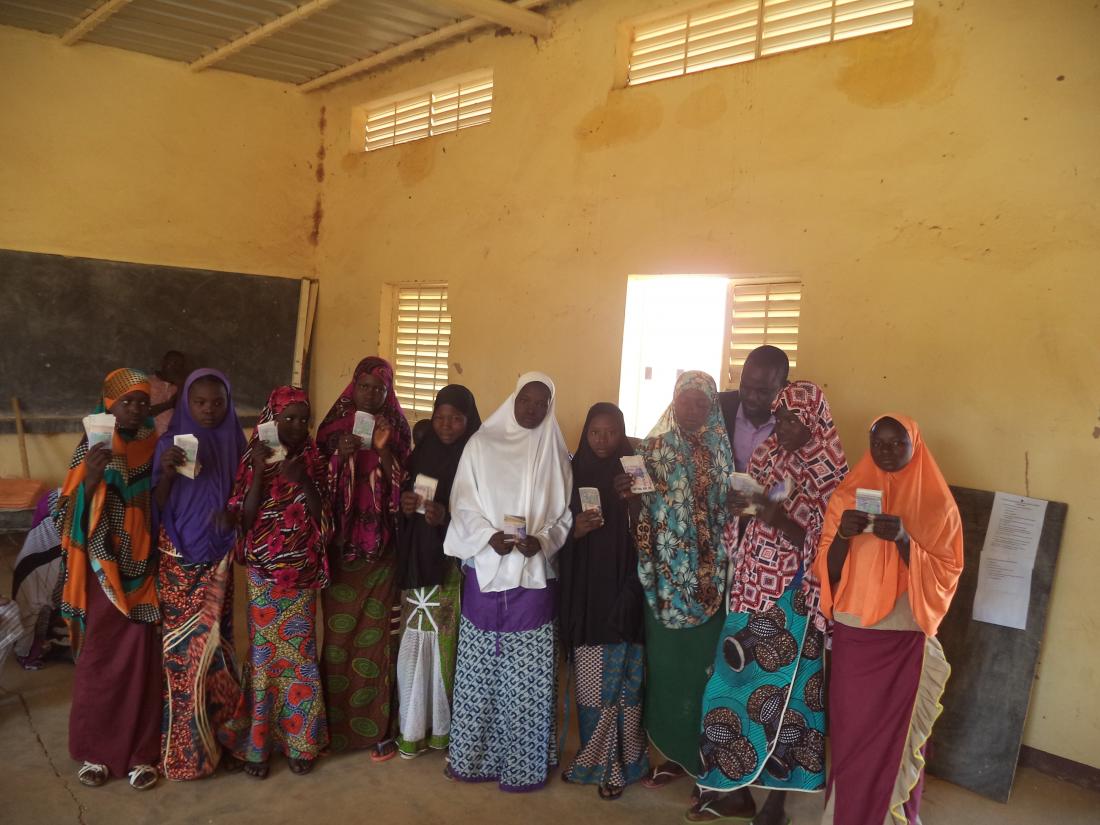 Details of the intervention
In partnership with the Government of Niger, the National Institute of Statistics, and the World Bank, researchers are evaluating the impact of scholarships on girls' educational attainment, female empowerment, and economic opportunities. The scholarship seeks to improve girls' hard skills, including vocational training, to put them on a more equal track with men.
The Toutes les Filles à l'École program (TFE) provides scholarships to girls without a secondary school in their village. As secondary school is free, the scholarship covers housing and food costs during all three years of school. To be eligible girls must meet a minimum grade average and come from a vulnerable family. The scholarship provides FCFA 180,000 (US$335) over nine monthly transfers during the school year for living expenses. Host families for female students receive 15,000 FCFA (US$28) each month for hosting. Girls' families receive the additional 5.000 FCFA (US$9) per month.
Of 352 eligible villages (villages without a secondary school) identified by the Government of Niger, researchers randomly selected 285 to participate. Researchers then randomly assigned each village to offer varying shares of scholarships to eligible girls:
All scholarships provided: In 95 villages, every girl eligible for a scholarship received support.
Mixed group: In 95 villages, a randomly selected half of all eligible girls received a scholarship while the other half did not receive one.
Comparison group: In 95 villages, no girls received scholarships.
After one and two years, researchers will survey girls on several indicators of skill development, female empowerment, and labor market outcomes, including future aspirations, educational achievements, sexual health, and gender-related opinions including equality and female autonomy.
Results and policy lessons
Project is ongoing. Results forthcoming.
Giacobino, Hélène, Elise Huillery, Bastien Michel. 2018. "Sahel Women's Empowerment and Demographic Dividend Project Niger." 
1.
World Bank. "Niger secondary school enrollment, female" available at:https://data.worldbank.org/indicator/SE.SEC.ENRR.FE?locations=NE