Transparency for Development (T4D) in Indonesia
Sample:
6000 mothers and infants in 200 villages
Target group:
Children under five Mothers and pregnant women
Outcome of interest:
Empowerment Sexual and reproductive health Social service delivery Transparency and accountability Provider Performance
Intervention type:
Community participation Information
Poor governance may be one factor that contributes to low-quality public healthcare and service delivery, but evidence on the effectiveness of programs that aim to strengthen the transparency and accountability of public health systems remains mixed. In Indonesia, researchers are conducting a randomized evaluation of the Transparency for Development (T4D) program. Equipped with a community scorecard that details local health problems and barriers to receiving healthcare, community activists will formulate and undertake social actions to address these barriers to accessing high-quality maternal and neonatal healthcare.
Policy issue
Recent decades have seen vast expansions of health services across much of the developing world. However, the quality of these services is often lacking, limiting their ultimate impact. One reason is poor governance: lack of positive incentives for frontline service providers to perform well, leakage and diversion of materials and funds, poor management, and poor training. Uptake and quality of care could be improved by strengthening the incentives that influence the training and performance of service providers, as well as the oversight and supervision that service providers face. While a number of studies have evaluated various programs that aim to strengthen the transparency and accountability of public healthcare systems—such as social audits, tracking public expenditures, monitoring absenteeism among providers, and community scorecards—the evidence on their effectiveness remains mixed.
Context of the evaluation
In Indonesia, one woman dies giving birth each hour. In 2012, the maternal mortality rate equaled 359 deaths per 100,000 births, which is over three times higher than the target of the Millennium Development Goals.
Pattiro, a research and advocacy organization and an implementing partner in this evaluation, strives to improve the quality of public services by increasing accountability and transparency within local governments in Indonesia. Since its founding in 1999, Pattiro has worked in more than 17 provinces and 70 districts throughout Indonesia.
In collaboration with researchers, Pattiro developed and is now implementing the Transparency for Development (T4D) program. T4D provides communities with information on the uptake of maternal and neonatal health (MNH) services, the experience of community members at local health clinics and barriers to quality care. The program distributes this information to community activists who formulate and carry out a plan to improve health outcomes in their community. This study is taking place concurrently with a randomized evaluation that tests T4D in Tanzania.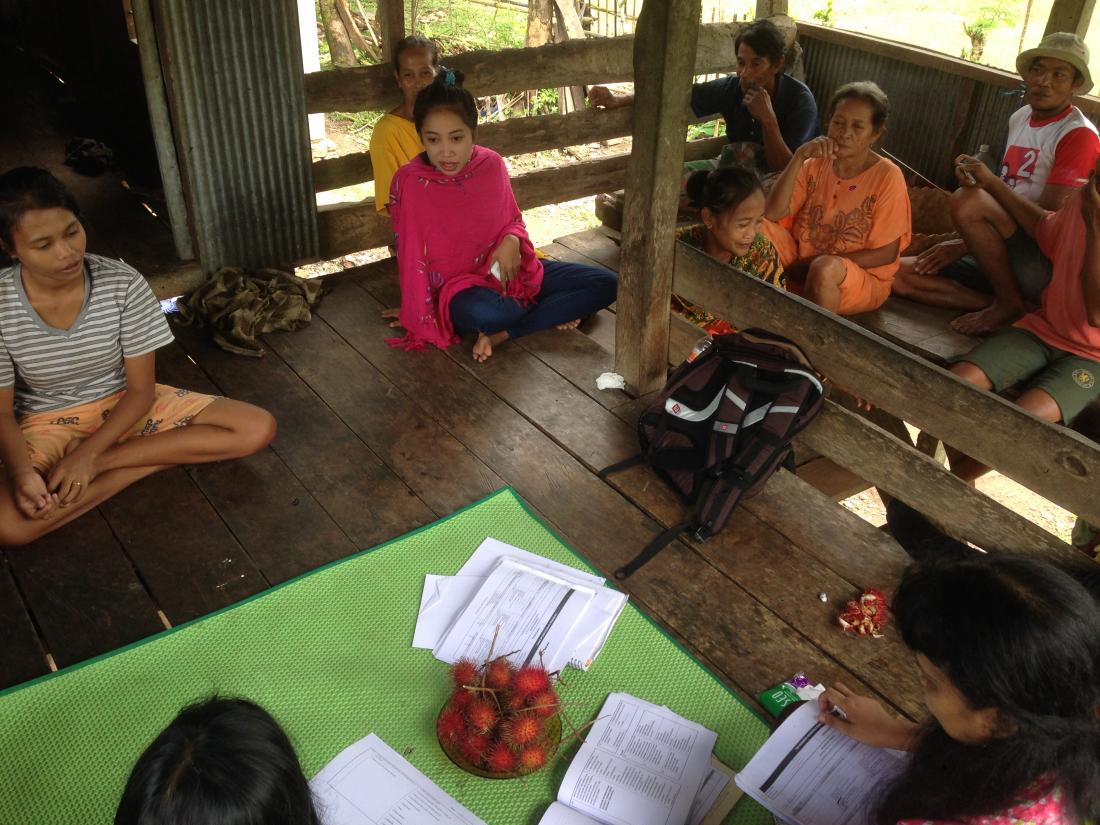 Details of the intervention
Researchers are partnering with Pattiro to evaluate a program that aims to improve maternal and neonatal care by bolstering transparency and accountability within villages and the health clinics they access. Among 200 villages in Indonesia, researchers are randomly assigning half to a treatment group, which participates in Transparency for Development (T4D). The other half forms a comparison group that does not participate in T4D.
To increase transparency in treatment communities participating in T4D, researchers gather information about the state of MNH and consolidate this information into a community scorecard. Pattiro facilitators survey both new mothers and community health facilities to identify obstacles that women face when seeking access to quality MNH services. The facilitators then share this information, in the form of a community scorecard, during a meeting with 15 activists per community. Activists are community members selected to participate in the intervention based on a variety of criteria, such as interest in MNH, history of activity in the village, and leadership skills.
To increase accountability in T4D communities, facilitators work with the community activists to formulate social action plans to address the barriers highlighted by the scorecard. Possibilities for action include community meetings, education campaigns, talking to journalists, engagements with the health facility, and lobbying policymakers. Although Pattiro facilitates the creation of the social action plan, the community activists hold responsibility for implementing it without help from the Pattiro facilitator. In addition, community activists are not given any monetary resources to carry out the actions.
After the action plan is formulated, the facilitator and community activists hold an open meeting to disseminate the scorecard information, present the social action plan, and motivate attendees to participate in activities. Once the open meeting is held, activists begin working towards the goals laid out in the social action plan. After four, eight, and twelve weeks the facilitator and community activists reconvene to discuss the progress of the social actions, challenges, and potential changes. They also discuss options for sustainability after the completion of the program.
To measure the impact of T4D, researchers are collecting data on health utilization, health service and individual health outcomes, including the proportion of women giving birth in a health facility, clinical content of MNH care, and weight-for-age z-scores, a measure of nourishment, of children under the age of one. Researchers are also measuring citizen empowerment and participation outcomes.
In addition, within a subset of communities, the researchers are conducting extensive qualitative research, including meeting observation and coding, in-depth interviews, and ethnography. This information will provide additional insight into the context in which the interventions occurred and to trace the process by which the interventions triggered—or failed to trigger—improvements in health care and changes in power dynamics and community relations.
Results and policy lessons
Study ongoing; results forthcoming.
Arkedis, Jean, Jessica Creighton, Archon Fung, Stephen Kosack, Dan Levy, and Courtney Tolmie "Can Transparency and Accountability Programs Improve Health? Experimental Evidence from Indonesia and Tanzania." HKS Faculty Research Working Paper Series RWP19-020, June 2019.