Financial Services for the Poor: Lessons and Implications of the Latest Research on Credit
The Consultative Group to Assist the Poor (CGAP)
Innovations for Poverty Action (IPA)
The Abdul Latif Jameel Poverty Action Lab (J-PAL)
The World Bank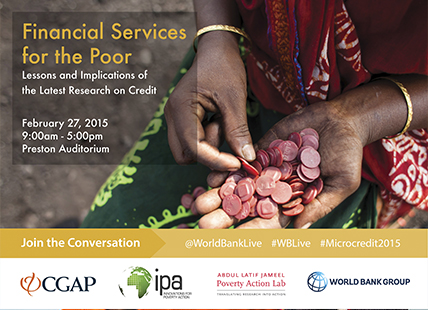 Microcredit has been both celebrated and vilified as a development tool. In the last decade, researchers and MFIs have worked together to bring empirical evidence to this debate through randomized evaluations, which have found that microcredit has a beneficial, but not transformative, impact on borrowers. These studies, published in the January 2015 American Economic Journal: Applied Economics, offer an unprecedented opportunity to explore the evidence of impact of microcredit across varying countries and contexts, and to identify policy implications from the results.
The event began with a discussion of findings from six randomized evaluations, conducted in six different countries, followed by panel discussions with investors, donors, and service providers addressing the implications of these results for the industry. While many donors and practitioners may have already incorporated early evidence, this event offered the unique opportunity to reflect on the many insights from the overall body of evidence. Panelists also explored promising innovations in product design and delivery channels that could expand the reach of financial services for the poor and improve their impact.
View a short video of insights and results from some of the researchers who conducted these studies:


Sessions
Opening Remarks
Bertrand Badré, World Bank Group
Keynote: Emerging Patterns from the Latest Research
Abhijit Banerjee, MIT
Evidence on Credit from Morocco
Esther Duflo, MIT
Evidence on Credit from India
Abhijit Banerjee, MIT
Evidence on Credit from Mexico
Dean Karlan, Yale University
Evidence on Credit from Mongolia
Orazio Attanasio, University College London
Evidence on Credit from Ethiopia
Jaikishan Desai, Victoria University of Wellington
Evidence on Credit from Bosnia and Herzegovina
Costas Meghir, Yale University
Panel Discussions
Taking Stock of the Evidence: Practical Implications for the Industry
Martin Holtmann (Moderator), IFC
Alex Counts, Grameen Foundation
Dirk Elsen, Triodos Investment Management
Monica French, Grupo Compartamos
Tomas Miller, Multilateral Investment Fund, IDB
Promoting Innovation in Designing Credit Products: Building on What We Know and Determining Where Future Research and Experimentation Should Focus
Gerhard Coetzee (Moderator), CGAP
Greg Chen, CGAP
Xavier Giné, World Bank Group
Dean Karlan, Yale University
Manfred Edmund Kuhn, Equity Bank
Rebecca Mann, Bill & Melinda Gates Foundation
What Next?
Kate McKee (Moderator), CGAP
Carol Caruso, Accion
Esther Duflo, MIT
Peer Stein, World Bank Group
Lindsay Wallace, MasterCard Foundation