Salma Rizk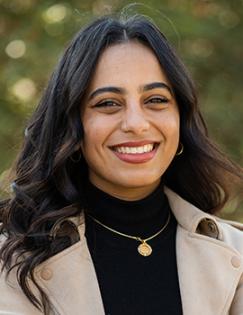 Research Associate , J-PAL Middle East and North Africa
Salma Rizk is a Research Associate at J-PAL Middle East and North Africa where she works on the projects supporting an Inclusive and Multi-Sectoral Response to COVID-19 and Addressing Socio-Economic Impact in Egypt. she is working on the project evaluating the Impact of Covid19 on MSMEs, Employment and Social Protection programmes. She is also working on the first audit studying measuring the Labour Market discrimination in Egypt and other projects related to microfinance and housing quality. 
Prior to joining J- PAL in 2021, she worked as an Economics Teaching Assistant at The British University in Egypt and a member of the Research and Postgraduate team and a Lab Helper at the Experimental and Behavioural Economics (EBEL) in the BUE. Salma holds a BSc. in Economics from The British University in Egypt. She graduated with a First-Class Honours degree and was the valedictorian of her class. Salma's dissertation project used quantitative methods along with survey experiments to study the ineffectiveness of poverty alleviation policies in Egypt due to cognitive biases among those living in poverty and the effects of these biases on their saving and consumption decisions. Benefiting from the partnership of her university with the University of Hamburg, she succeeded in receiving a fund from the DAAD to turn her dissertation into a real experiment. For that, she used the BUE's Experimental and Behavioural Economics Laboratory (EBEL) to run her first lab experiment, which is a work in progress to be published.
Salma is interested in investigating the effectiveness of the social protection policies in addressing major development problems, as well as, the behavioural aspects of the poor while making socio-economic decisions in The Middle East and North Africa.