Improving the Transparency and Delivery of a Subsidized Rice Program in Indonesia
Location: Lampung, South Sumatra, and Central Java provinces, Indonesia
Sample: 572 villages
Outcome of Interest:
Corruption
Transparency and accountability
AEA RCT Registration Number:
Partners:
Governments around the world face the challenge of ensuring that the rules governing social assistance programs for the poor are implemented as intended. Within Indonesia's national subsidized rice program, researchers tested whether increasing program transparency or giving villages the option to privatize rice distribution could reduce leakages and increase the subsidy that eligible households received. Providing program information on ID cards substantially increased the subsidy eligible households received. The option to privatize rice distribution also improved program performance and reduced the price households paid for rice.
Policy Issue
Throughout the world, governments face the problem of ensuring that the rules governing social assistance programs for the poor are implemented as intended. These rules are often administered by someone who lives closer to the beneficiaries, such as a local politician or bureaucrat. A local official in charge of administering a transfer program, such as a food subsidy, may have discretion to redistribute the subsidy to households who are not poor enough to qualify for the program. He may also choose to charge families a price higher than the official subsidized price, further excluding the poorest households. Furthermore, some eligible households may not receive program benefits because they do not know that they are eligible in the first place.
One potential way to ensure programs reach their intended beneficiaries is to provide people with information about their eligibility. Information could change beneficiaries' beliefs about what they are entitled to, expand their ability to bargain with program implementers, and ultimately what benefits they receive. Another possible way to improve program delivery could be to privatize implementation, as governments can often provide stronger performance incentives to private contractors than to their own employees. However, the impact of privatization is unclear because stronger incentives could also push contractors to lower program quality to cut costs.
Context of the Evaluation
Rice comprises a large share of the household budget for many poor households in Indonesia. In 1998, the Government of Indonesia introduced Raskin, a rice subsidy program that allows low-income households to purchase 15 kg of rice per month at one-fifth the market price, IDR 1,600/kg (US$0.15). The intended subsidy value is substantial, amounting to about 4 percent of a beneficiary household's monthly consumption. With an annual budget of over US$1.5 billion in 2012, and a targeted population of 17.5 million households, Raskin is Indonesia's largest targeted transfer program. It is implemented at the village level by local officials appointed by the village head. Typically, the village head appoints one villager to be in charge of picking up the rice from the central distribution point, collecting copays from households, setting up a location where households can receive the rice, and remitting copays to the central government.
As of 2012, Raskin beneficiaries received only about one-third of their intended subsidy. In comparison villages in this study, 79 percent of eligible households had purchased Raskin rice in the last two months, however, 63 percent of ineligible households did so as well. Beneficiaries also paid over 40 percent more than the official copay price on average. Local officials may distribute Raskin to ineligible households for a variety of reasons, such as political pressure, community perceptions of fairness, or to maintain social cohesion. Beneficiaries also had little information on program rules, meaning they just may not realize that they are receiving less than their entitled subsidy. Only 30 percent of beneficiaries in this study knew that they were on the official eligibility list.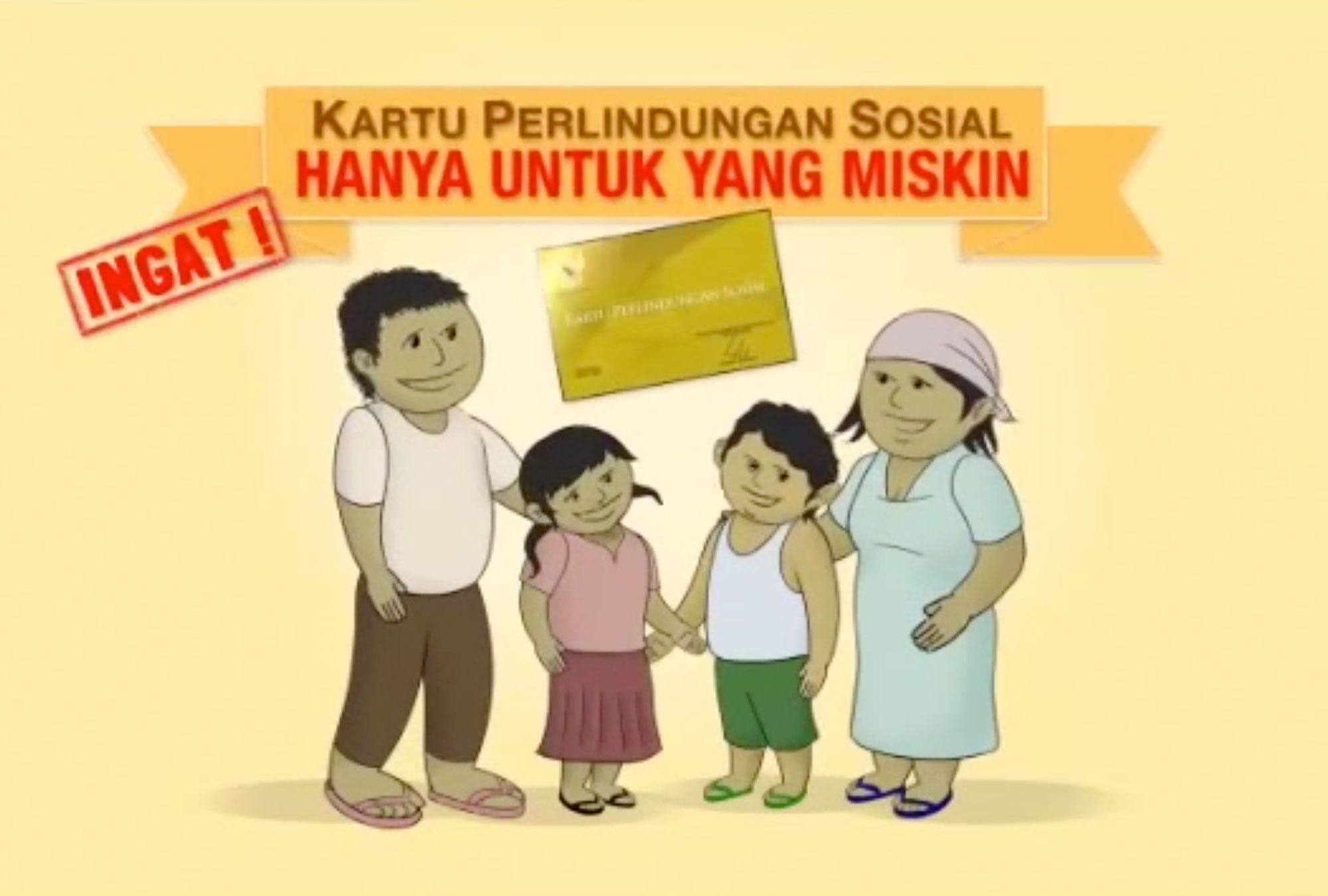 Details of the Intervention
In partnership with the Government of Indonesia, researchers conducted a randomized evaluation to test whether increasing program transparency or giving villages the option to privatize Raskin distribution could increase the subsidy eligible households received and reduce leakages.
Intervention 1: Providing information about Raskin eligibility
From a sample of 572 villages in South Sumatra, Lampung, and Central Java, 378 were randomly selected to receive Raskin identification cards that informed low-income households of their eligibility and the quantity of rice they were entitled to, while 194 villages served as a comparison group. In addition, card villages were randomly assigned to receive three variations of the intervention: whether the official copay price of rice was printed on the card, whether cards were sent to all eligible households or only to the poorest 10 percent, and whether information about beneficiaries was also made public through posters and local advertisements.
Intervention 2: Offering villages the option to privatize rice distribution
In a randomly assigned 191 villages out of the same sample of 572, the central government introduced an auction procedure where citizens could bid for the right to distribute Raskin rice. To facilitate bidding, a facilitator shared information about Raskin and the new distribution process with the community. A local committee was then organized to examine bids, choose the winner, and monitor distribution. A random subset of 96 villages was encouraged to have a minimum of three bids before the auction could proceed. To control for the fact that the bidding intervention could improve program performance just by providing citizens with better information about Raskin, another 96 villages received an "information only" intervention, which provided citizens with the same program information and organized a committee to monitor Raskin distribution, but did not include the actual bidding process. The remaining 285 villages served as a comparison group and maintained the status quo rice distribution process.
Results and Policy Lessons
Providing citizens with program information through ID cards significantly increased the amount of subsidy that eligible families received. Researchers conclude that this was because the cards gave eligible households increased bargaining power with local officials who distributed rice. Printing the copay price on the card and providing public information about beneficiaries further increased the impact of the ID cards. Offering villages the option to privatize rice distribution also improved program performance and reduced the price households paid for rice.
Subsidies: On average, beneficiaries in ID card villages received a 26 percent increase in subsidy, stemming from both an increase in quantity of rice purchased and a decrease in the price they paid. On average, eligible households in card villages bought 1.25 kg more rice than those in comparison villages. These large effects occurred despite the fact that card distribution was inconsistent: eligible households in ID card villages were only 30 percentage points more likely to receive a card, relative to 7 percent in comparison villages.
Leakages: The cards increased the quantity of rice received by eligible households but did not decrease the quantity received by ineligible households, thus indicating that the cards led to an overall reduction in leakages. Specifically, the cards increased the total amount of rice distributed by 17 percent, indicating a 36 percent reduction in missing rice.
Price information: Including price information on the ID card further increased the total subsidy households received. Specifically, eligible households received IDR 3,602 (US$0.30) more subsidy per month with the printed price than without. This effect was driven primarily by an increase in the quantity of rice received as opposed to a lower price, suggesting that including price information improved recipients' ability to bargain with local officials rather than leading officials to comply exactly with program rules.
Public information: The public information significantly increased knowledge of one's own eligibility status. Eligible households in the public information villages were also 19 percent more likely to have received a card and 50 percent more likely to use it than in the standard cards villages. Public information also nearly doubled the subsidy that eligible households received.
Privatization: Overall, privatization improved program performance, though by a smaller magnitude. The bidding process led about 17 percent of villages to switch distributors. Villages generally prioritized suppliers who had relevant distribution skills as traders (who manage sales and distribution of goods for a living), access to transportation for distribution, and a savings account that could be used for business. The bidding process reduced price markup by IDR 49 (US$0.01) relative to the information-only intervention, equivalent to an 8 percent reduction in markup. Requiring three bids further reduced markup by about IDR 74 (US$0.01). In contrast, simply providing information without the bidding process had no effect on the price or quality of rice distributed, indicating that it was the bidding process and not increased transparency that led to improved program delivery.
Based on the insights generated from this research, the Government of Indonesia decided to scale up the ID card program to 15.5 million poor households, beginning in June 2013. By August of that year, 14.38 million cards had been distributed as Social Protection Cards. For more details, see the evidence to policy case study.
Abhijit Banerjee, Rema Hanna, Jordan Kyle, Benjamin A. Olken, and Sudarno Sumarto, 2018. "Tangible Information and Citizen Empowerment: Identification Cards and Food Subsidy Programs in Indonesia," Journal of Political Economy 126, (no 2): 451-491.
Banerjee, Abhijit, Rema Hanna, Jordan Kyle, Benjamin A. Olken, and Sudarno Sumarto. "The Role of Competition in Effective Outsourcing: Subsidized Food Distribution in Indonesia." March 2017.