Using the DOTS Model to Combat Tuberculosis in India
Location:
Indian states of Delhi, Punjab, Madhya Pradesh, Uttar Pradesh, and Chhattisgarh
Sample:
141 healthcare workers
Target group:
Health care providers
Outcome of interest:
Tuberculosis Provider Performance
Intervention type:
Incentives Health care delivery Monitoring
India has one of the highest incidences of tuberculosis in the world. In an ongoing study, researchers are evaluating the effect of financial incentives on Indian healthcare counselors' motivation to detect and treat tuberculosis.
Policy issue
In 2011, 1.4 million people died from tuberculosis (TB) and there were an estimated 8.7 million new cases. For the first few months after a person develops TB, the symptomsincluding cough, fever, night sweats, and weight losscan be very mild, which can lead to significant delays in treatment, increasing the transmission of the bacteria to others. People ill with TB can infect up to 15 other people through close contact over the course of a year.1 When TB is detected, patients have to undergo an efficient but stringent six-month treatment that involves taking several pills two to three times a week and can have associated side-effects. This makes it difficult to ensure compliance, especially since the symptoms of the disease often disappear after the first few weeks. However, incomplete treatment can lead to multiple drug resistant forms of TB.
Given the importance of treatment timing and ensuring patient compliance, healthcare workers play a major role in treating and containing the spread of the disease. However, little is known about the best ways to incentivize workers to detect and follow up on tuberculosis cases.
Context of the evaluation
India has the highest incidence of tuberculosis in the world; nearly 2 million Indians develop TB each year and about 1,000 Indians die of TB each day. Rates of TB are especially high in urban slums, where overcrowding increases contagion and lack of space or access to running water can prevent adequate disposal of infected mucus that is coughed up by infected persons.
The national TB eradication strategy in India follows the World Health Organization' s DOTS (Directly Observed Treatment - Short course) method, which requires that a healthcare provider watch the TB patient take their medications in order to prevent noncompliance. While the DOTS method has led to significant progress in the treatment of TB, it does not address many of the challenges of treatment provision in urban slums. Government dispensaries are often located far away from slums, making it difficult and costly for TB patients to be identified and then comply with the entire treatment.
Operation ASHA, a Delhi-based NGO, has centers in a number of urban slums in Punjab, Delhi, Uttar Pradesh, Madhya Pradesh and Orissa. A health worker is attached to each center and works to increase the number of detections and prevent defaults in the community. CARE India, a member mission of a large, international humanitarian organization, operates according to a similar model in rural areas in Madhya Pradesh, Jharkhand and Chhattisgarh.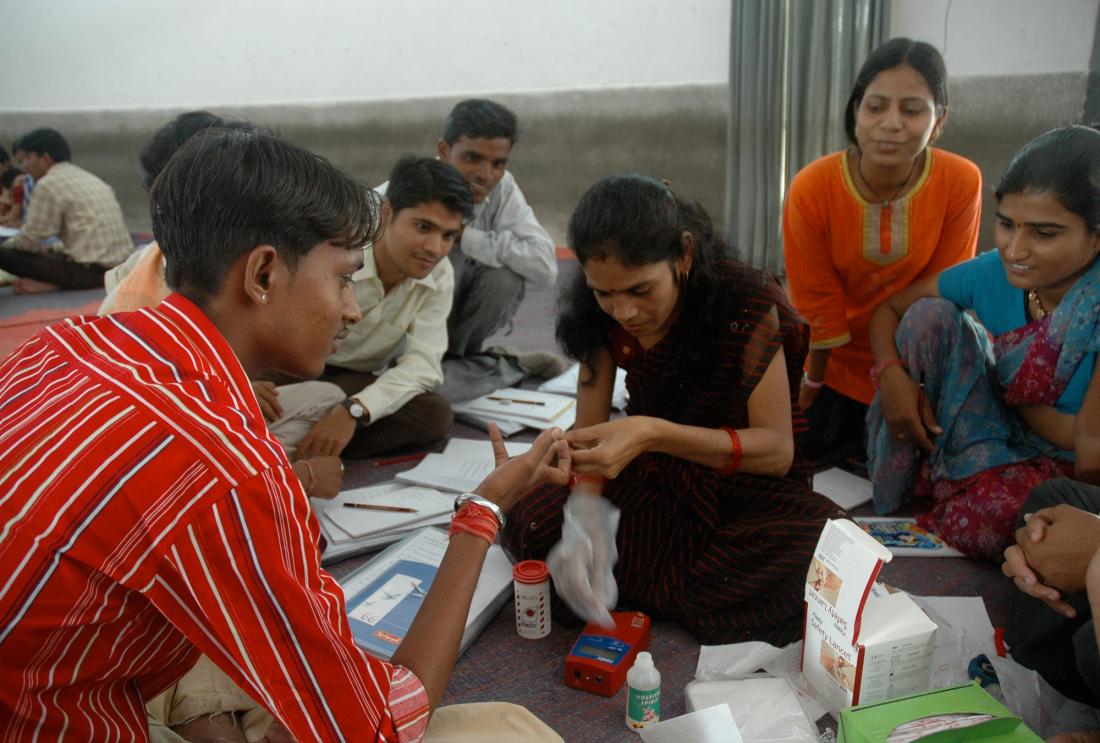 Details of the intervention
Researchers are testing whether financial incentives can increase healthcare counselors' motivation, and therefore their detection and treatment of TB. Ninety-six counselors from Operation ASHA and 51 field extension workers from CARE India were randomly assigned to either the treatment groupwhich received financial rewards for each new patient enrolled in the DOTS systemor the comparison groupwhich received a fixed salary. After six months, the health workers were re-assigned at random to either a new treatment group, in which they were financially penalized for each patient that defaulted on their treatment, or the comparison group, in which they received a fixed salary. Researchers are evaluating the impact of the incentivesboth positive and negativeon counselors' motivation and commitment to their job, and on the detection of and treatment compliance for TB.
In another arm of the project, researchers are testing the impact of improving monitoring of health worker' s efforts and patient compliance through the introduction of biometric technology in TB control centers. Operation ASHA has developed a biometric system based on a fingerprint scanner connected to a low-end computer and cellphone. Health workers as well as patients identify themselves when they come to the center. The data is then sent by SMS several times per day to a server located in Delhi, and alerts and reminders are sent to health workers when noncompliance is detected.
Researchers are evaluating these two strategies (performance-based incentives and the biometric monitoring tool) on the number of TB patients detected, the number of defaults, and a range of intermediary outcomes such as health workers' motivation, provider absenteeism, and the quality of service delivery perceived by patients.
Results and policy lessons
Project ongoing, results forthcoming.
Bossuroy, Thomas, Vincent Pons, and Clara Delavallade. "Biometric Tracking, Healthcare Provision, and Data Quality: Experimental Evidence from Tuberculosis Control." NBER Working Paper No. 26388, October 2019.
1.
World Health Organization (WHO). "Tuberculosis Fact Sheet N104." Accessible at http://www.who.int/mediacentre/factsheets/fs104/en/index.html