European Social Inclusion Initiative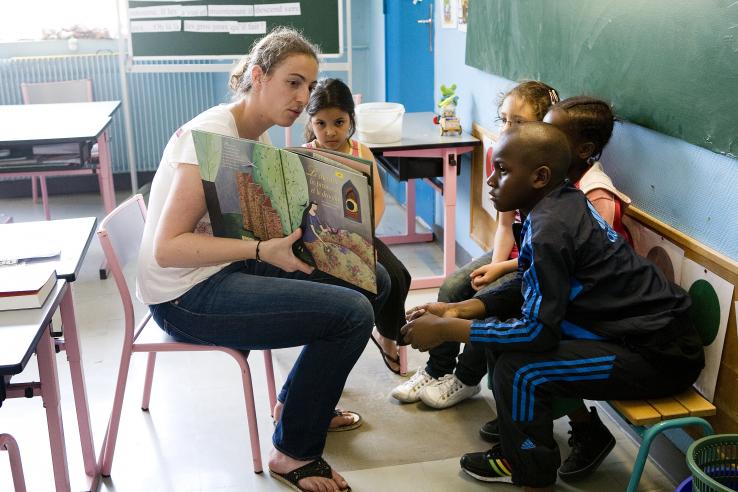 Hosted by J-PAL Europe at the Paris School of Economics, the European Social Inclusion Initiative (ESII) aims to evaluate programs and policies that can help foster the social inclusion of migrants and refugees in Europe.

Overview
What does the initiative focus on?
J-PAL's European Social Inclusion Initiative (ESII) is a multi-year research and policy outreach initiative that aims to generate and share widely applicable lessons about which programs are effective at promoting the inclusion of migrants in Europe. To achieve this, we will:
Fund randomized evaluations;

Engage in policy outreach activities; and
Provide training for policymakers and implementers.
The first round of requests for proposals seeks to find answers to the question, "How can education interventions improve the inclusion and the socio-economic future of first- and second-generation migrants and refugees, in Europe?"
Why do we want to focus on the inclusion of migrants through educational programs in Europe?
Children growing up in low-income families are less likely to thrive in school, find employment, and earn high incomes as adults. In Europe, this opportunity gap is particularly stark for children from immigrant backgrounds, who are twice as likely to grow up in poverty as children with native-born parents. They are also at greater risk of dropping out of school or vocational training programs, and more exposed to unemployment than youth with native-born parents. Migrants face specific barriers to integration – including linguistic, cultural, and administrative barriers – and may thus require targeted programs designed to meet their needs. Despite considerable financial means being dedicated to social programs that promote better inclusion, there remains little rigorous evidence of which programs and policies work best, and why.
 
Key Facts
Eligibility:
Open to J-PAL affiliates, J-PAL post-docs, and ESII invited researchers